Prof. Jeff McCall '76 Analyzes President Bush's Rhetorical Style in Boston Herald
October 12, 2001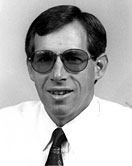 October 12, 2001, Greencastle, Ind. - In an analysis of President Bush's Thursday night news conference published in today's Boston Herald, writer Andrew Miga opines, "On a night when U.S. bombs rocked Afghanistan and the FBI issued a new terror alert, President Bush was an oasis of calm, delivering messages of reassurance and resolve to anxious Americans." In the piece, entitled "President exudes calm, resolve: Commanding performance erases doubts," Miga suggests that Bush's speeches and appearances in the days following the September 11 attacks have erased doubts about his oratorical skills and his ability to "seem presidential."
Miga turns to one outside source for opinion, a DePauw faculty member and 1976 graduate of the University. ``He's grown into the role,'' professor of communication arts and sciences Jeffrey M. McCall says of President Bush in this morning's Herald. ``He seems to be on-message. He has pulled it off in a way that I wouldn't have thought possible a month ago.''
The article continues, "The president's folksy imagery, painting the terrorists as 'evil doers' and invoking Western-style 'wanted dead or alive' taunts, has played well. 'His rhetorical style has a real Old West ring,' said McCall. 'It sounds like Ronald Reagan talking about the Evil Empire, and people seem to respond to that.'"
The Boston Herald piece can be accessed online, in its entirety, by clicking here.
Back