Internationally-Known 'Bimbetta' Brings World Premiere to DePauw
October 12, 2001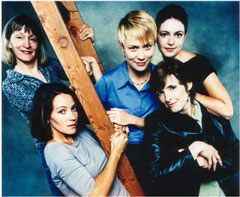 October 12, 2001, Greencastle, Ind. - Tuesday, October 23, 2001, DePauw University's Performing Arts Center will host the world premiere of "Forbidden Ground" by Bimbetta, a five-woman ensemble described by the San Francisco Chronicle as "at once outrageous, contemporary and informal... musically authentic and satisfying." The performance will begin at 8 p.m. in Thompson Recital Hall.
A group that tours the world, Bimbetta's roots are in Bloomington, Indiana. Founded by five women who had grown tired of the formal recital ritual of classical music concerts, Bimbetta brings aspects of feminism, popular culture, and Baroque music into a unified concept expressed through theatrical performance. The group is dedicated to performing early music with original instruments and techniques, combined with 20th century interpretations and imagery.
Germany's Concerto magazine defines Bimbetta as "an utterly enjoyable mixture of feminist cabaret and music of the early Baroque delivered in an absolutely professiona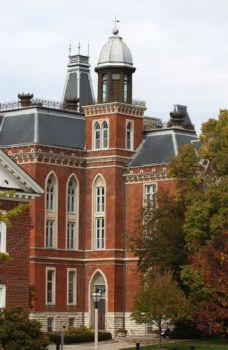 l manner. Impossible? On the contrary!" Through period instruments and vocal styles, Bimbetta uses the heat and humor of American popular culture to bring the passions of 17th-century music straight into the 21st century. The ensemble has been featured in concert series, universities, nightclubs and alternative rock venues, and at major festivals in the United States and Europe.
Trained as classical musicians at the Indiana University School of Music's Early Music Institute, Bimbetta is made up of three vocalists, a cellist and a harpsichordist. The Los Angeles Times called Bimbetta "exquisitely trained musicians with credible experience and a highly cultivated sense of irony." The Boston Globe offered, "The five women delivered a stylish, energized performance, impeccably tuned and crystal clear. This group was here to tell us that Baroque music is happening now, not then."
Tickets to the world premiere of "Forbidden Ground" are $8 for adults, $5 for senior citizens and children. DePauw students with ID will be admitted free of charge. For more information, contact the DePauw Performing Arts Center Box Office at (765) 658-4827.
Back