Memoir of Vernon Jordan '57 Now in Bookstores
October 16, 2001
October 16, 2001, Greencastle, Ind. - Vernon Can Read!: A Memoir, by 1957 DePauw University graduate and civil rights legend Vernon E. Jordan Jr. and Annette Gordon-Reed, was released today and is now available nationwide wherever books are sold. The first review out of the gate, in the November edition of Book Page, calls the book, "...candid, worldly, controversial and smart ... a marvelous memoir by a man who knows what to tell and how to tell it."
Vernon Jordan, the former president of the National Urban League, tells the story of how his early years shaped his life. The 320-page book contains a lengthy chapter on Jordan's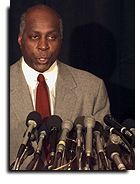 experiences at DePauw.
Summing up his book, Jordan describes the struggle for civil rights as "the most important American story of the second half of the twentieth century, and there are many ways to tell it. In my case, a simple fatherly impulse to explain to his daughter 'how he grew' has given rise to my very personal take on the black experience since the end of the Second World War. I hope it will be instructive to readers today, and for anyone in the future who wants to know something of what those times were like."
Vernon Jordan will return to his alma mater Old Gold Weekend, Saturday, October 27, 2001 to speak on how DePauw has changed over the years. He also will be available to sign copies of Vernon Can Read!: A Memoir. You can learn more about the visit by clicking here.
Back