12 Alumni To Be Honored Old Gold Weekend
October 17, 2001

October 17, 2001, Greencastle, Ind. - DePauw University will recognize the uncommon success of a dozen of its alumni October 26-27, 2001 at ceremonies marking Old Gold Weekend on the Greencastle campus. The honorees will include the first four recipients of Distinguished Service Awards, six new members of the DePauw Athletic Hall of Fame, and the Old Gold Goblet and Young Alumni Award winners.
Michael R. Maine, attorney and partner with the law firm of Baker and Daniels and a 1961 graduate of DePauw University, will be presented with the 2001 Old Gold Goblet, for eminence in life's work and service to his alma mater.
While a student at DePauw, Mike Maine participated in ROTC, directed the DePauw Madrigal Singers, and was an officer of the Student Senate. He was a member of Phi Beta Kappa, was tapped for Gold Key, and graduated with high distinction with a degree in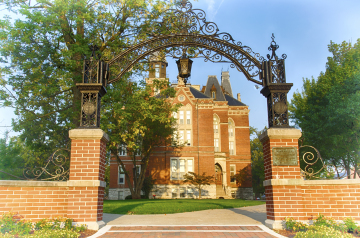 political science. He earned his J.D. degree, with distinction, from the University of Michigan, and was admitted to the Indiana Bar in 1964. At Baker and Daniels, Maine's primary practice is in international, employment and corporate law. He chairs the international law team, and was officially licensed by the Chinese Ministry of Justice as the chief representative of Baker & Daniels' office in China. He also serves as general counsel to the Board of School Commissioners of Indianapolis.
Mike Maine has held leadership positions throughout his career with the Indiana Seventh Circuit and American Bar Associations. He is a Fellow of the American and Indiana Bar Foundations and Distinguished Fellow with the Indianapolis Bar Foundation. He was recognized in 1986 as a Sagamore of the Wabash, and was presented with the Centennial Service Award to the Public and Profession in 1996 by the Indiana State Bar Association. His board memberships include Global Crossroads Foundation, Indiana Repertory Theatre (president); Japan-America Society of Indiana (founder and vice president); Heartland Film Festival (co-chair and Crystal Heart corporate campaign chair); Mental Health Association in Indiana (executive committee member and president), and Indiana University's Kelley School of Business. He was elected to the DePauw University Board of Trustees in 1990, and serves as secretary and as a member of the Executive Committee. Maine is married to the former Suzanne Bauman (DePauw 1962, and a former member of the Alumni Board) and they have two children, Christopher '87 (deceased 1990), and Melinda '89, a current member of the Alumni Board.
Douglas I. Smith, president and chief operating officer of Washington, D.C.-area homebuilder Miller and Smith and a 1985 graduate of DePauw University, is the recipient of his alma mater's 2001 Young Alumni Award.
Doug Smith came to DePauw from Bethesda, Maryland, and quickly became a leader in campus activities. He joined Delta Tau Delta fraternity, and was elected president of the chapter his senior year. Smith was elected president of the freshman, sophomore and junior Union Boards. His reorganization of a campus blood drive increased donations ten-fold, and he created a run to raise funds for local charities.
After graduation from DePauw in 1985 with a degree in economics, Smith joined the sales force of Procter and Gamble. In 1990, he earned an M.B.A. from Harvard Business School and joined LaSalle Partners Corporate Real Estate, managing a half-million square foot office complex in Oak Brook, Illinois. During Smith's tenure, the value of the property increased by $20 million. In 1992, Smith returned to the Washington, D.C. suburbs and the firm of Miller and Smith, a privately held residential land development and homebuilding company that his father helped found. Doug was named chief operating officer in 1997, and president of the homes division a year later. In 2000, Miller and Smith built 350 single-family homes in the metropolitan Washington, D.C. area, with sales revenues exceeding $100 million and was rated by J.D. Powers as Washington's top privately held builder based on customer satisfaction.
Doug Smith was elected to the DePauw Alumni Association Board of Directors 1997. He has also served DePauw as a member of the Washington C. DePauw Executive Committee, as a volunteer for career services and admissions and as a class committee member. Smith and his wife, Ann, a Vanderbilt and Michigan MBA graduate, have two children, Kathleen, 8 years old, and Peter, 4 years old. Smith is involved in Flint Hill, his children's school, the Harvard Business School Annual Fund and the Northern Virginia Builder's Association.
The Old Gold Goblet and Young Alumni Award will be presented Smith will be presented at the Old Gold Luncheon on Saturday, October 27, 2001.
This year, for the first time, Distinguished Alumni Awards will be presented in four categories at a new reception and banquet on Friday night, October 26. The recipients are:
Media: Philip H. Ault (posthumous award)
Management and Entrepreneurship: Don R. Daseke '61
Professional Achievement: Robert W. Schrier, M.D. '57
Citizenship and Voluntary Service: Lucy A. Sloan '61
Finally on Saturday night, six new members will be inducted into the DePauw Athletic Hall of Fame:
Mr. Jay S. Frye '72: Basketball, Baseball
Dr. J. Kent Guild '53: Basketball
Ms. Colleen Konicek '88: Field Hockey
Dr. Sally A. Rudicel '69: Field Hockey
Mr. Richard A. Strakowski '61: Cross Country and Track
Dr. Randy Wells '77: Baseball and Football
You're invited back to campus to join in the celebration for these outstanding alumni, to gather at Blackstock Stadium for the football game, and to enjoy a variety of events planned for our returning alums. For more information on Old Gold Weekend 2001, click here for the Old Gold web page or contact the Alumni Relations Office at 317-658-4208.
Back