Vernon Jordan '57 and DePauw in Newsweek
October 21, 2001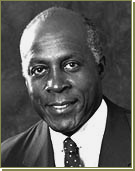 October 21, 2001, Greencastle, Ind. - Vernon E. Jordan, Jr., the legendary civil rights leader who graduated from DePauw in 1957 and is a Trustee of the University, writes of his "American Odyssey" in the October 29 issue of Newsweek that hits newsstands this week. The article is a companion piece to Jordan's new book, Vernon Can Read!: A Memoir, of which Newsweek writes, "There are no secrets here about Bill Clinton, no juicy gossip. It is, instead, a remarkable American story of how one man rose out of an old order to help create a new, fairer one."
Jordan recalls the summer of 1955, when he went to interview for an insurance sales position in his hometown of Atlanta. "I went up to the receptionist's desk to present myself. 'My name is Vernon Jordan,' I said. 'I'm a student at DePauw University, and I'm here to begin my summer internship.'"
The segregation of the day meant that Jordan would be turned away by the insurance company. Instead, he spent the summer as a chaffeur for former Atlanta Mayor Robert F. Maddox. Jordan

would spend his free time in the afternoon reading books in Maddox's library. He writes, "One afternoon, as I sat reading, Maddox walked in on me. He had awakened early from his afternoon nap and had come down in his underwear, with a bottle of Southern Comfort in one hand and a glass in the other. He was clearly startled to see me there.
'What are you doing in the library, Vernon?'
'I'm reading, Mr. Maddox.'
'Reading? I've never had a n----- work for me who could read,' he said.
'Mr. Maddox, I can read. I go to college.'
'You do what?' he asked.
"'I go to college.'
'You go to college over there at those colored schools?'
'No, sir. I go to DePauw University in Greencastle, Indiana.' He pondered this for a moment. 'White children go to that school.'
'Yes, sir.'
Then the inevitable. 'White girls go to that school.'
'Yes, sir.'
'What are you studying to be, a preacher or a teacher?'
'Actually, I'm going to be a lawyer, Mr. Maddox.'
'N------s aren't supposed to be lawyers.'
'I'm going to be a lawyer, Mr. Maddox.'
'Hmmm. Well, don't you know I have someplace downstairs for you all to sit and do what you want to do?'
'I know. But I didn't think you'd want me to take these books down there. They should stay in the library.' He looked around and finally said, 'Just read, then just go ahead.' He turned and walked out. I thought the matter was closed. I soon found out it was not."
You can read the entire article, in which Jordan also recalls the 1980 shooting in Fort Wayne, Indiana, that nearly took his life, at Newsweek's web site, which is accessible by clicking here.
Vernon Jordan will return to the DePauw campus, Saturday, October 27, 2001, to speak on the changes he witnessed in Greencastle and around America as the walls of segregation fell. You can learn more about his Old Gold Weekend speech and book signing by clicking here.
Back