Monon Bell Rivalry Featured in New Book, ESPN Series
October 22, 2001
October 22, 2001, Greencastle, Ind. - Friends of DePauw University will be interested in Rites of Autumn: The Story of College Football, a new book by Richard Whittingham, which features the Monon Bell rivalry among its 320 pages. The book includes two color photos from last year's game with accompanying captions: one image shows a DePauw player intercepting a pass, the other shows the victorious Tigers carrying the Bell off the field in celebration.
The book is accompanied by an ESPN series on college football's greatest rivalries that is airing this fall on the cable sports network. The DePauw-Wabash rivalry is included in a segment entitled "Bragging Rights."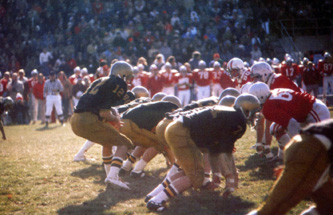 The air date has not been set, but check the DePauw web site for updates.
Booklist describes Rites of Autumn as "profusely illustrated with more than 200 photographs and with plenty of charts and sidebars, it's a college football lover's dream book. Every player you've ever heard of, and plenty you haven't, are here."
By the way, the 2001 Monon Bell will take place Saturday, November 10th at DePauw's Blackstock Stadium. Kickoff is set for 1 p.m. Ticket information will be available on the web site very soon.
Back