Novel by Gene Brewer '59 Becomes New Kevin Spacey Movie
October 23, 2001
October 23, 2001, Greencastle, Ind. - When Gene Brewer graduated from DePauw in 1959 with a chemistry major, he never expected to write novels, have one turned into a movie, and even appear in the film. But that all comes true when K-PAX, starring Kevin Spacey and Jeff Bridges opens in theatres nationally this Friday, October 26. The movie is getting a lot of press attention in the days preceding its release.
K-PAX is a story about a psychiatric patient who claims to be from another planet and his relationships with his doctor and other patients in a hospital. If you want to watch for Brewer's walk-on part in the movie, you'll have to read the rest of this story.
What was Brewer's motivation for writing K-PAX? "I have long believed that most people, to put it succinctly, are nuts,
perhaps crazier than the inmates of the mental institutions," Brewer said. "How else to explain the wholesale destruction of our fellow inhabitants of the Earth and, for that matter, our planet itself?
"While I was pondering how to put this into novel form, I read Oliver Sacks' The Man Who Mistook His Wife for a Hat. With that insight into the psychiatrist-patient relationship, K-PAX virtually crystallized, as we former chemists would say."
After DePauw, Brewer received a Ph.D. in biochemistry from the University of Wisconsin and was a faculty member at two medical schools. Leaving science for writing in 1979, he produced a trilogy, beginning with K-PAX, which was nominated for the Arthur C. Clarke award in 1996. Earlier this year his second novel, On a Beam of Light, was published, and The Worlds of Prot is due out in July 2002. He also is working on a courtroom novel titled Wrongful Death, which he plans to adapt into a screenplay.
His DePauw experience may have had something do to with his eventual second career as a novelist. "My English 101 professor, Ed Galligan, was kind enough to encourage my writing and, in fact, asked me to do something for the Hoot (a DePauw literary magazine at the time). I never did because I never got out of the lab, but perhaps he planted a seed in my head that finally germinated more than 20 years later," Brewer said.
It did take persistence for Brewer to get his writing career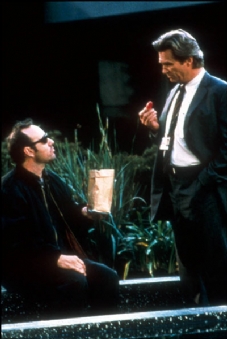 off the ground, to say the least. He received rejections from 48 publishers before St. Martin's Press finally accepted his manuscript and published K-PAX in 1995. "Somewhere during the long rejection period I asked my agent whether we should try to sell K-PAX to a film studio instead of a book publisher. He told me it would never become a movie," Brewer said. "I asked him why not, and he said, 'Because it doesn't have any car chases.' We parted company soon after that."
Once the book was accepted and pre-publication copies were sent to film producers, the phone started ringing, however. Executive producer Larry Gordon, who produced Field of Dreams, Die Hard and 48 Hours, optioned the rights for Universal Pictures. Unfortunately, the project sat on the shelf for six years until Kevin Spacey became interested in it.
After filming began in New York and Hollywood, Brewer and his wife, Karen, visited the sets to meet the cast and crew. They also were invited to attend the movie's premiere on Oct. 22 in Los Angeles.
While on the set in Hollywood, Brewer was given a walk-on part in the movie. Watch carefully during the 'bluebird scene' in which actor Jeff Bridges walks away from a window. Brewer portrays a paranoid schizophrenic who walks from behind Bridges on the right side.
For more information about Gene Brewer, visit his Web site by clicking here.
You also can read more about the movie and view a trailer for K-PAX at the film's official site, accessible by clicking here.
Back