Board of Trustees Hires Chief Investment Officer
October 26, 2001
October 26, 2001, Greencastle, Ind. -
[DOWNLOAD VIDEO: "Never Stronger" 296KB]
[DOWNLOAD AUDIO: "Never Stronger" 224KB]"So much positive momentum has built up over the last two or 3 years," Judson C. Green Jr., the new chair of DePauw University's Board of Trustees said this afternoon at the conclusion of the fall meeting. "The University has never been stronger," he stated.
Green, president and CEO of Navigation Technologies Corporation and a 1974 DePauw graduate, announced the hiring of W. Jerry Burroughs as the University's Chief Investment Officer. Burroughs spent more than thirty years overseeing Dow Chemical's multi billion dollar portfolio. Green says the move is vital because
[DOWNLOAD VIDEO: "CIO HIRED" 485KB]
[DOWNLOAD AUDIO: "Important Initiative" 364KB]"so many of the things that we want to do in the DePauw community take resources, and so preserving what we have received... as well as investing wisely, is a really important initiative."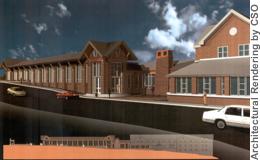 In other news, Green and DePauw resident Robert G. Bottoms announced there is now a timeline for construction of an expansion of the Walden Inn (an architect's rendering of the project is pictured). Work is set to begin in January. The new space will include a banquet/party hall, a lounge and two courtyards (one of which will contain an amphitheater), and Dr. Bottoms said it should be ready around the time students return to DePauw in the fall of 2002.
Calling the eLearning effort
[DOWNLOAD VIDEO: "Point of Distinction" 707KB]
[DOWNLOAD VIDEO: "Innovative Ideas" 917KB]
[DOWNLOAD AUDIO: "Innovative Ideas" 144KB]"There are some really innovative ideas that people have developed here that I think other schools are going to be hungry to hear about,"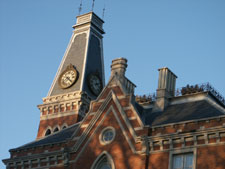 the board chairman said of the DePauw initiative funded in part by a $20 million Lilly Endowment grant.
DePauw remains committed to diversifying its student body, faculty and staff, Green asserted.
[DOWNLOAD VIDEO: "Diversity" 546KB]
[DOWNLOAD AUDIO: "Diversity" 424KB] "I think this has been one of the most important, if not the most, important initiatives that Dr. Bottoms has led in the last few years. I think we all feel quite proud about it, because it strengthens the intellectual community here (and) it makes DePauw a much richer and rewarding experience," he said.
Back