DePauw Loses Overtime Battle, 34-31
October 27, 2001
October 27, 2001, Greencastle, Ind. - DePauw battled back from a 21-0 first quarter deficit only to lose to visiting Centre, 34-31, in overtime after the Colonels' Nick Zillich
[DOWNLOAD VIDEO: "WINNINGFG" 439KB] booted a 27-yard field goal.
The Tigers knotted the score at 28-28 on Matt King's [DOWNLOAD VIDEO: "6 Yard TD Run" 299KB] 6-yard run with 1:47 left in the third before Centre took a 31-28 advantage on Zillich's 41-yard field goal with 11:23 left in regulation. Zillich later missed a 41-yard attempt with 2:02 left in the fourth and the Tigers took over on their own 24. Senior quarterback Jason Lee completed five of six passes to drive the Tigers to the Centre 23. Three straight incomplete passes followed before sophomore Ben Murray was called on to attempt a potential game-tying 41-yard field goal. His kick was short, but Centre was called for running into the kicker and the ball was moved five yards closer. Murray's second attempt was good from 36 yards with 36 seconds left. Centre drove to the DePauw 29 to set up Zillich's 46-yard attempt which was short as regulation ended.
Centre won the coin toss to start overtime and DePauw began on the Colonels' 25. Lee was sacked on first down for a 6-yard loss by Adrien McKinnes and completed a 3-yard pass to John Stephens on third down which put the ball on the Centre 28.
Murray's 47-yard attempt was short and the Colonels took over.
Jeremy Britt gained one yard on first down before quarterback Drew Mildren connected with Jeremy Gomez for an 11-yard gain and a first down. Travis Bell carried the ball for a pair of 2-yard gains before Zillich was called on to kick the game-winner.
Centre came out and quickly established its offensive attack with three first-quarter touchdowns to take a 21-0 lead. Lee teamed wit Dan Ryan for a 4-yard score and with Mark Rinehart for a 23-yard touchdown to close the gap to 21-14 with 3:29 left in the first half. The Colonels then drove 63 yards in nine plays in 3:09 with Jeremy Britt rushing in from two yards with 20 seconds left to put the guests ahead 28-14 at the half.
DePauw took the second-half kickoff and drove 66 yards in five plays with King scoring on a
[DOWNLOAD VIDEO: "2NDTD" 415KB] 3-yard run. The sophomore back then tied the score later in the quarter with his 6-yard run. Centre rolled up 505 yards of offense with Mildren connecting on 32 of 47 passes for 316 yards. He connected with eight different receivers with Lorenzo Engleman and Jeremy Gomez each hauling in seven. Britt rushed for 156 yards on 31 carries as Centre picked up 189 rushing yards.
Lee completed 26 of 60 passes for 323 yards and two touchdowns, but was intercepted three times. Ryan finished with 11 catches for 142 yards, while Stephens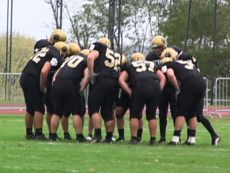 caught nine for 116 yards. Stephens, who leads Division III in all-purpose yards, finished with 219 on reception and return yardage. King totaled 54 rushing yards on 10 carries as DePauw finished with 410 yards.
Mike Laszynski led the DePauw defense with 14 tackles followed by Freddy Marrero with 11and Josh Angel with 10. Marrero, Alson Jacquet and Joshua Swift each finished with a sack on the afternoon and John Christophersen added an interception. John Ortega led Centre with 12 tackles, while John Gist totaled seven and Brian Britt five along with two interceptions.
DePauw dropped to 4-4 overall and 3-2 in the SCAC with the loss, while Centre improved to 7-1 overall and 4-1 in the conference.
Back