David Becker's Uncommon Dot-Com Success Profiled in Indy Star
October 29, 2001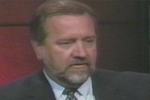 October 29, 2001, Greencastle, Ind. - David Becker, a 1975 graduate of DePauw University and owner of VIFI, which provides online banking services to small and midsized financial firms, is a dot-com anomoly. As other Internet businesses have gone bust over the past 18 months, Becker's firm has boomed. That success story is the subject of an article in the business section of today's Indianapolis Star.
In the story, "Online banking services proves to be right niche," Dave Becker tells the paper that his son Jason, now a DePauw sophomore, provided the inspiration that led to the creation of VIFI. The Star's J. K. Wall, a 2001 DePauw graduate, writes, "One weekend in 1995, Becker watched his 13-year-old son Jason play around on the Web. As Becker observed how the Internet captured Jason's imagination, he realized it could capture adults' imaginations, too -- by delivering banking services anywhere, anytime."
VIFI, which employs 110 people on the northwest side of Indianapolis, now serves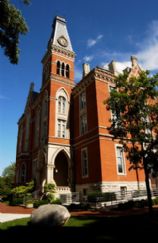 170 banks and credit unions. Revenues, which were $365,000 in 1996, reached $9 million in 2000, good enough to be ranked #100 on Inc. magazine's list of fastest-growing companies. VIFI is estimating its 2001 revenues could reach $16 million.
David Becker serves his alma mater as a member of the board of directors of the McDermond Center for Management and Entrepreneurship. He's also a member of the Governor's High Tech Task Force and a director of the Indiana Technology Partnership. Becker was recently selected as the winner of the regional 2001 Ernst & Young Entrepreneur Of The Year® award within the Financial Services category.
You can read the entire article. It's posted at the Star's web site, and is accessible by clicking here
David Becker appeared on Inside Indiana Business, a statewide television show, in July. You can read excerpts of that interview, and download video and audio clips from the TV program, by clicking here
Back