Technology at DePauw Gives Students Running START
October 30, 2001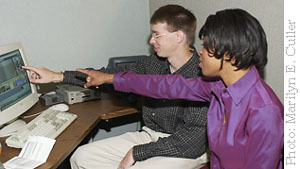 October 30, 2001, Greencastle, Ind. - DePauw University is taking steps to make sure its students are technologically fit. As part of the eLearning initiative, DePauw students will be able to participate in a new program called Student Technology Assessment Resources and Training, or START.
The START program includes pre- and post-assessment of the level of studentsí technological knowledge; a series of workshops on general computer skills, information literacy, software skills, Web authoring and video skills, including pre- and post-production camera work.
"We're trying to make sure that all students have the opportunity to learn and enhance their technical skills," said NaShara C. Mitchell a 2001 DePauw graduate and coordinator of technology workshops, who is pictured at left. "The ultimate goal is for each student to be technology fluent and also have the opportunity to become certified in technology through Tek.Xam, a national technology assessment examination, as well as through a new DePauw certification program."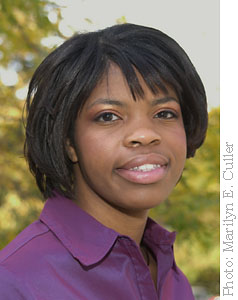 The DePauw Certification program is an innovative component of the e-Learning initiative. University staff is not aware that any other institution of higher education has established a similar certification effort.
"It's important for DePauw to have its own certification program because it shows the University's commitment to giving students the background and skills to use technology applications," Mitchell said. DePauw Certification also will benefit students in another important way, according to Mitchell. "DePauw certification will provide students with added credibility and an enhanced portfolio when they present themselves to employers," she said.
START is designed to enhance the liberal arts curriculum and classroom instruction at DePauw. "Technology is the new liberal art. All DePauw students should graduate with technology fluency," said Dennis A. Trinkle, a 1991 DePauw alumnus who serves as associate coordinator of information services and technology, assistant professor of history and coordinator of e-Learning initiatives.
In addition to interactive workshops and print resources, students will be able to work at their own pace to develop their technology skills through Element K, a web based resource for online training. Element K offers students the opportunity to create independent learning plans for review and enhancement of technical skills at the student's pace. Element K also allows students to secure instant answers to their technology application questions as they proceed on a project.
The DePauw Certification exam will include a modular test covering beginning-to-advanced technology skills. Students may take this test whenever they feel prepared for it.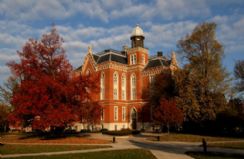 START is designed to support technology skills for all DePauw students. The Information Technology Associates Program, which allows students to develop advanced technology skills, accepted 30 students this fall and is another part of the e-Learning initiatives. More students will be accepted into ITAP for the spring semester.
You can learn more about Student Technology Assessment Resources and Training by clicking here.
You can learn more about the Information Technology Associates Program by clicking here, or by reading this earlier article.
Back