HS Senior with DePauw Plans Profiled in Newspaper
October 31, 2001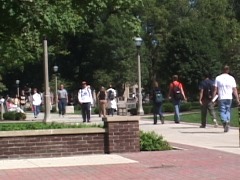 October 31, 2001, Greencastle, Ind. - A high school senior from Lucern, Indiana who holds down two jobs, at a JCPenney store and a Shell station, and has plans to attend DePauw University next year, is the subject of a lengthy and upbeat newspaper profile. The story of 18-year-old Christine Gibbs appeared in the Sunday, October 14, edition of the Logansport Pharos-Tribune, which describes Gibb's tale as "anything but familiar, especially in a society that tends to view teen-agers as lazy and disrespectful."
Writer Amanda Redman continues, "Holding two jobs, the 18-year-old is in the midst of her senior year in high school. Her grades are good -- good enough to get her accepted to DePauw University in Greencastle, where next year she will study PC programming and graphic design. 'When I'm not working, I'm doing homework,' Gibbs said while answering questions about herself between customers at the Shell station." 'How's your day been?' Gibbs asked a middle-aged woman paying for gasoline. 'You don't want to know,'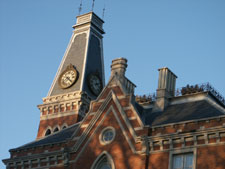 the lady answers, proceeding to vent frustrations about her own job. Gibbs smiles and bids a better day to the woman, who leaves appearing a little happier than she looked upon entering."
Gibbs, who has been working since age 7 and now puts in 40 to 50 hours a week in her two jobs, is also a Girl Scout leader in addition to being a scholar. Gibbs is the middle child of 11 children.
You can read the complete story at the Pharos-Tribune web site by clicking here
Back