Retired Congressman Talks About the 'Professionalization of Politics'
November 1, 2001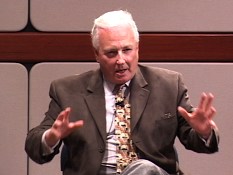 November 1, 2001, Greencastle, Ind. --
[DOWNLOAD VIDEO: "Boring Fast" 533KB]
[DOWNLOAD AUDIO: "Boring Fast" 248KB] "This is a topic that gets boring real fast," half-joked former U.S. Congressman Al Swift as he addressed a group of media fellows and faculty tonight on the issue of campaign finance reform. "Because, in fact, it is quite technical. And so... if you throw away the nonsense, you don't have anything left that's interesting."
Swift, who served 8 terms in congress (1979-1995) representing Washington State, says after nearly 30 years of debate over changing the way American political campaigns are funded, there is great need for change. Swift says politics has become
[DOWNLOAD VIDEO: "Professionalized" 363KB]
[DOWNLOAD VIDEO: "Pro Quarterback" 1685KB]
[DOWNLOAD AUDIO: "Pro Quarterback" 786KB]
"I thought I knew something about running campaigns," Swift told his DePauw audience. "This guy was astonishing. He was honest; he said, 'you decide what your positions are, I'll decide how to sell 'em, I'm not gonna tell you what your positions should be...' It was like putting a professional football quarterback at the head of a high school team."
But Swift says, "of course, my opponent hired one, too. And you talk about escalation of war... what all of this flood of money that we have in campaigns has done is leave everybody about where they were when they were running campaigns for $200,000, only now they're spending about a million and a half."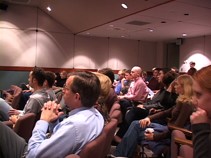 A proposal now before both chambers of Congress would close a loophole that allows politicians to collect and spend soft money on their campaigns.
[DOWNLOAD AUDIO: "Bad Boys" 463KB] "That's probably a good thing to do," Swift says, adding, "I'll betcha it isn't what you thought you came here to talk about. I'll bet you it isn't campaign finance reform as you thought it had been defined. Nothing about PACs (political action committees) is in it."
[DOWNLOAD AUDIO: "Running on Idle" 555KB]
Swift says for there to be a real change in campaign finance laws, America must decide if campaigns will be funded by private, special interests or through public movies. The benefit of the latter, he says, is that incumbents and challengers would get the same funds to work with, and special interests could no longer "buy" influence on legislation.
[DOWNLOAD AUDIO: "Buying Influence" 460KB] He estimates such a fund would cost each American taxpayer $16 a year, "the same as you'd spend on one compact disc," the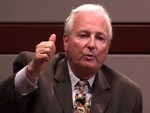 retired lawmaker said.
While some on Capitol Hill have suggested that television and radio stations be required to provide politicians free airtime during campaigns, suggesting it would increase meaningful dialogue and reduce campaign spending on advertisements, Swift is not buying.
[DOWNLOAD AUDIO: "Buy More" 468KB] "They will take all the free radio and television time and go out and buy more," he offered.
Back