Execution of Woman is Backdrop of Play Machinal
November 2, 2001

November 2, 2001, Greencastle, Ind. - Ruth Snyder was the first woman in New York to be executed by electrocution. The DePauw Little Theatre's second production of the season, Machinal, is loosely based on Snyder's notorious murder trial and subsequent date with death, telling the compassionate story of a tragic antiheroine's life and eventual downfall. The play opens this weekend in Moore Theatre of the Performing Arts Center with shows Friday, Saturday and Sunday, November 2-4, and again next Friday and Saturday, November 9-10.
Machinaltells the story of a young, innocent stenographer who marries her supervisor and soon finds herself trapped in a submissive, loveless marriage. The young woman seeks freedom, love, and an escape from the grind of daily life though an extramarital affair and eventually by murdering her husband.
When Machinal opened on Broadway in 1928, starring Zita Johann and Clark Gable, the New York Times dubbed it "a triumph of individual distinction, gleaming with intangible beauty ... an illuminating, measured drama such as we are not likely to see again." Machinal's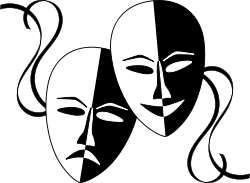 popularity was renewed with its revival in the early 1990s.
Although the play is over 70 years old, it still presents a realistic depiction of contemporary anxieties concerning the nature of love, truth, justice and freedom.
Showtimes on Fridays and Saturdays, November 2, 3, 9 and 10 are 8 p.m. A Sunday matinee, on November 4th, will have a 2 p.m. curtain. Tickets for the play are $6 ; $3 for students. For information, contact the Performing Arts Center Box Office at (765) 658-4827 or e-mail: pacboxoffice@depauw.edu.
Back