NY Times Notes "Powerful Personal Ambition" of Vernon Jordan '57 in Book Review
November 4, 2001
November 4, 2001, Greencastle, Ind. - "Vernon Can Read! is the story of a black Southerner one generation removed from rural poverty thrusting himself up not only to help lead a great social movement but then to claw his way into the establishment," Roy Reed writes in a New York Times book review, published in today's edition of the Times. The memoir of Jordan, a 1957 graduate of DePauw University, is "by necessity is more than a success story," Reed writes. "It is also a recollection of the pain suffered and the bravery asserted by so many black Americans -- and more than a handful of white Americans -- in the struggle for political and economic equality."
You can read the entire review, "Vernon Can Read!: The Will to Rise," which mentions DePauw, by clicking here (a free registration is required).
Vernon Jordan returned to his alma mater for a speech Old Gold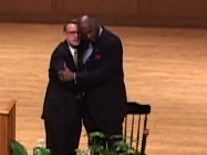 Day, Saturday, October 27, 2001. You can see and hear video and audio clips of his remarks, view photos and read about his DePauw visit by clicking here.
Earlier that week, Mr. Jordan granted a nearly 15 minute interview to National Public Radio (NPR). Broadcast on Morning Edition, the chat included several tales from Vernon Jordan's days as a DePauw student. You can hear the interview online by clicking here. Also accessible is a Newsweek article by Mr. Jordan, which recounts an episode from the summer of his sophomore year-- an event that provided the title for his book. You can read that piece by clicking here.
Back