Students to Mark Veteran's Day in Different Ways
November 9, 2001
November 9, 2001, Greencastle, Ind. - This Sunday, November 11, DePauw University students will stage two events to coincide with Veteran's Day, which has taken on additional significance given the events of two months ago.
At 2 p.m. on the south end of Bowman Park, DePauw's College Republicans will sponsor a "Rally for America" that will include the playing of the National Anthem by DePauw trumpeter Kelsie Gray, remarks from Greencastle Fire Chief Bill Newgent, and recognition of all veterans in attendance. The first 100 people to arrive at the rally will be given American flags. College Republicans across the nation will stage similar rallies Sunday to show support for America and our troops.
Sunday also marks the opening of a "peace camp" in the academic quad to protest what the student organizers call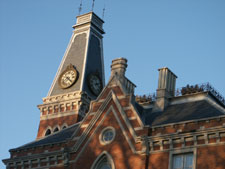 "the violence of retaliation and terrorism." The students also want to bring attention to the U.S. Army School of the Americas in Fort Benning, Georgia, where Latin American military personnel receive training. Sophomore Melissa King says, "all students, faculty, staff and community members are encouraged to participate regardless of whether their views align with those organizing the Peace Camp," which will stay open until school recesses for Thanksgiving break.
Back