New Video Tells DePauw's Uncommon Success Story
November 10, 2001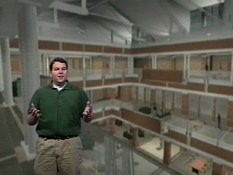 November 10, 2001, Greencastle, Ind. - What's new on the DePauw University campus? A lot! New buildings, national recognition for the University and its faculty, and achievements of students and alumni that underscore the "uncommon success" that begins at DePauw.
The picture at the top of this story shows a "virtual tour" of what the expanded Julian Science and Mathematics Center will look like when it's completed, one of the backdrops for a video "update" that aired during halftime of the Monon Bell telecast.
The piece features students Lucretia Payne, Todd Morgan and Ben Hardaway as well as Vernon Jordan '57 and was created by DePauw's Eugene C. Pulliam Center for Contemporary Media. It's embedded below.
You can also see the entire video (it's a large file) here:
[DOWNLOAD VIDEO: "HALFTIME PIECE" 9903KB] . Or, if you prefer to view a shorter clip (which, of course, requires less time to download), it's here:
[DOWNLOAD VIDEO: "Half #1" 2465KB]
Also available for your viewing and listening pleasure is the message from DePauw President Robert G. Bottoms that was broadcast during halftime. In the piece, the President greets viewers and says he's "never been more proud" to be part of the DePauw family. You can see and hear it here:
[DOWNLOAD VIDEO: "RGB-VIDEO" 3073KB]
[DOWNLOAD AUDIO: "RGB-VIDEO" 1477KB].
Back