Prof. Jeff McCall '76 Quoted in Sunday's Boston Herald
November 11, 2001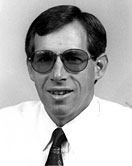 November 11, 2001, Greencastle, Ind. - An article in today's Boston Herald by Tom Mashberg, entitled "America promises to be a hard sell to many Muslims," poses the question, "can the United States in general, and the war on Osama bin Laden and the Taliban thugocracy in particular, somehow be mass-marketed to a vast and skeptical Muslim populace -- one that views America as irreligious and materialistic at best, and as martial and imperialistic at worst?," and includes analysis from DePauw University professor of communication Jeff McCall.
"(President) Bush will not be able to use direct avenues to communicate U.S. reasoning to the Muslim world, because no U.S. spokesman or message will be received with any credibility," McCall, a 1976 graduate of DePauw, is quoted in the Herald. "The U.S. will have to rely on convincing moderate Middle Easterners in government and clergy of the
merits of the cause, then ask them to translate and deliver the message on terms that might prove convincing."
You can read the entire article online at the Boston Herald's Web site, and link directly to the story by clicking here.
Back