"Monon Classic" Says Indianapolis Star
November 11, 2001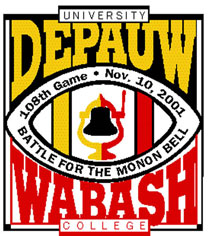 November 11, 2001, Greencastle, Ind. - Wabash College's "Jake Knott ran right, squeezed the football one last time, then threw up a wounded turkey that seemed to take generations to come down," C. Jemal Horton writes in today's Indianapolis Star. His article on yesterday's 108th battle between DePauw University and Wabash, which ended with a dramatic touchdown pass with no time on the clock, is entitled, "Wabash nips DePauw in a Monon classic."
Horton writes, "You can understand why they turned the field into a dance floor when it was over. They'd created the performance of a lifetime to get this victory -- for themselves and for ghosts of Little Giants past.
"See, an entire class had gone to Wabash, graduated and become middle managers since the Little Giants last rang the Monon Bell. So they all took turns, Wabash alumni, Wabash students. They all rang that bell," the article continues.
You can read the entire story at the Star's Web site, accessible by clicking here.
Back