Once Labeled a Terrorist, Angela Davis Talks of Recent Events
November 12, 2001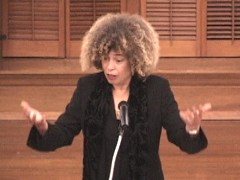 November 12, 2001, Greencastle, Ind. - Stores across America are filled with pins, scarves, bumper stickers and other merchandise depicting the American flag, yet Angela Davis says this is a not a sign of renewed patriotism. Instead, the political and social activist who was jailed in the 1960's says they reflect an "obsession with the flag." Davis presented a speech, "A Radical Framework for Social Justice" tonight in Meharry Hall of historic East College on the DePauw University campus.
[DOWNLOAD VIDEO: "Flag Marketing" 1387KB]
[DOWNLOAD AUDIO: "Flag Marketing" 693KB] "I guess what I'm concerned about is the marketing of patriotism, the marketing of what appears to be patriotism," Davis told her DePauw audience, "and the displacement of our fear, our sense of mourning, our attempt to recover from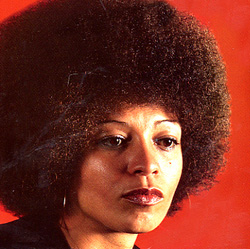 the catastrophic events of September 11th onto the image of the flag -- as if, by wearing the flag, by putting the flag on our cars and houses and so forth, somehow we would no longer have to think about the world that we are confronted with today."
Davis, now a professor at the University of California at Santa Cruz, joined the Communist Party in 1968. The next year, she became national news after being removed from her teaching position in the philosophy department of UCLA because of her Communist Party membership and social activism. A year later, in 1970, Ms. Davis became only the third woman in history to appear on the FBI's most wanted list, charged by the authorities with conspiracy following a bloody shootout in front of a California courthouse. She was incarcerated for 16 months; a massive, international "Free Angela Davis" campaign was organized, and she was acquitted in 1972.
[DOWNLOAD VIDEO: "Officially Designated" 1373KB]
[DOWNLOAD AUDIO: "Officially Designated" 631KB] "I happen to be a person who has never embraced terrorism, even though I myself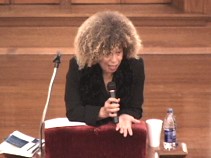 was officially designated a terrorist by the President of the United States [Richard Nixon], so that makes me a little critical," she said to laughter. "I think it is extremely important for all of us to use critical skills we develop in institutions like this -- what good is knowledge if we can't use it to understand our lives?"
Davis says in the wake of the attacks on America, it's important for people to assess their feelings and responses and to remember to lessons of the past. While Americans are directing anger and retaliation toward Afganistan because it has been harboring terrorist Osama bin Laden, she says many innocent people in that country are bearing the brunt of that. In the first hours after the Murrah Federal Building in Oklahoma City was bombed, the focus was on foreign terrorists as potential suspects.
[DOWNLOAD VIDEO: "OKC Lesson" 1416KB]
[DOWNLOAD AUDIO: "OKC Lesson" 650KB] "When we discovered that the terrorist was home grown, the government did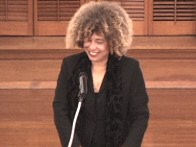 not react by going to Idaho and Montana and bombing (those states) in order to catch the terrorists," she said to applause. "You know, we rarely put those things together. But it makes sense to think about what's happening in Afghanistan against what the backdrop of what happened in Oklahoma and consider that there are other ways of addressing this issue," Davis said.
[DOWNLOAD AUDIO: "Criminals & Terrorists" 341KB] Ms. Davis says there also are parallels to be drawn between the way we view terrorists and the way America handles its prisoners. She quoted an April 4, 1967 speech by Dr. Martin Luther King, Jr., who said, "We are called to speak for the weak, for the voiceless, for the victims of our nation and other nations, for those it calls enemy. For no document from human hands can make these humans any less our brothers." Davis says, in recent years, America has undertaken a "massive" program of building new prisons.
[DOWNLOAD AUDIO: "Prisons" 516KB] "It's almost as if the prison in both concept and institution serves as a place to deposit what is undesirable," she stated. "So inside those prisons we deposit those people who are assumed to be the undesirables in our society, lock them away, and not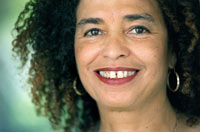 worry about. We are safe... they make us feel safe."
What's more, Davis says many new prisons are now privately run.
[DOWNLOAD AUDIO: "The KFC Connection" 599KB] "Punishment has become very profitable. There are so many corporations and organizations that have a stake in this punishment system."
[DOWNLOAD AUDIO: "Huge Economy" 600KB]
The social activist and educator says since September 11, the federal government has moved to limit immigration, and she worries other restrictions will follow that could affect all Americans.
[DOWNLOAD AUDIO: "Hone Skills" 354KB] "This is a period during which, if we want to maintain a vision of the possibilities of social justice, we truly need to hone our critical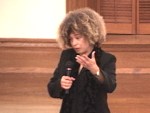 skills, develop them and implement them."
Davis, who spent about 90 minutes on the Meharry Hall stage speaking and answering questions, said she was heartened by what she saw on the DePauw campus, including the Peace Camp that's been erected in the academic quad, and by the existence of the Russell J. Compton Center for Peace and Justice. Davis said such programs are
[DOWNLOAD AUDIO: "DePauw Activism" 376KB] "playing an important role in encouraging students on this campus, the entire campus community, to think critically about the current web of political events."
Back