A New Way to Say 'Hello' -- Monon Bell Online Greeting Cards Now Available & Free!
November 14, 2001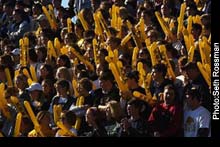 November 14, 2001, Greencastle, Ind. - If you want to share the excitement that is the Monon Bell with DePauw friends, or people who've yet to "get" what makes the annual battle between DePauw and Wabash so special, there's a new way to reach out. DePauw's Web Team, which debuted new and free online greeting cards a few weeks ago, has added a football flavor to the mix.
By clicking here you will be taken to the Monon Bell Greeting Card page, where you can choose from among four Tiger action photos,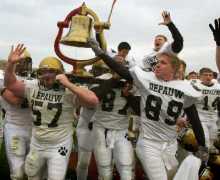 add a greeting and say "hello" to someone anywhere in the world, while giving them a sample of one of the best rivalries in all of college football.
Of course, the regular DePauw Greeting Card page, which features eight campus photos, is still accessible by clicking here. The cards are distinctively DePauw, and are free!
Back