Julian Center Renovation Will Mark Milestone Tuesday
November 15, 2001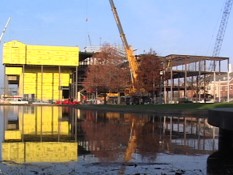 November 15, 2001, Greencastle, Ind. - Terrific November weather and the dedication of construction crews means work is progressing on the expansion of the Julian Science and Math Center on the DePauw University campus. Fred Soster, chair of and professor in the department of geology and geography reports, "We continue to make good progress on meeting our goal of getting the east addition enclosed by the end of the year. The atrium trusses arrived on Tuesday and we began setting them on Wednesday. Work on the exterior walls continues and portions of the second floor are being readied for interior framing.Vertical duct work is being installed in the vertical HVAC shafts. We hope to pour the remaining floors on all levels this week and next week,"
Dr. Soster says.
Next Tuesday, November 20, 2001 the project will take a symbolic leap forward. Between 11 a.m. and 1 p.m. DePauw faculty members and administrators who have been involved in the project will sign the final piece of steel that will be placed on the building.
The project will add 120,000 square feet of new space to the Julian Center, then renovate the 120,000 square feet of existing
space in the building. The multi-phase project should be wrapped up in two years. It will eventually house the new national eLearning center, created at DePauw with the assistance of a $20 million grant from Lilly Endowment last March.
To view a three-dimensional animated architect's video rendering of what the new Julian Center will look like, click here:
[DOWNLOAD VIDEO: "Julian Animation" 460KB].
Back