"Washington Insider" Charles Brooks '79 Joins American Jewish Congress
November 16, 2001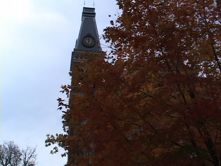 November 16, 2001, Greencastle, Ind. - "Charles Brooks is a true Washington insider," declared American Jewish Congress President Jack Rosen as he announced the appointment of Brooks, a 1979 graduate of DePauw University, as AJC's Washington Representative. In his new role, which he assumes immediately, Brooks will be responsible for both the work of the AJCongress Office of National Affairs, dealing with the Executive Branch and the Congress, as well as the operation of AJCongress' National Capital Region, directing the activities of the regional office.
"He knows his way around the corridors where decision-makers operate in the Capital and he knows what issues are on their minds," Rosen continued. "He will represent us with great skill before Washington officialdom, while at the same time providing us with the information we need in the crafting of our policies to assure that they have the greatest chances of success."

Charles Brooks, who also holds a masters degree in international relations from the University of Chicago, and a certificate in international law from the Hague Academy of International Law in the Netherlands, has spent his career in government relations, legislative and political affairs, international trade development and marketing. An AJC news release states that the DePauw alumnus "has developed substantial expertise in a wide variety of issues, most prominently those involving Middle East, Jewish, counter-terrorism and foreign affairs concerns."
You can read more about Brooks in the AJC news release, accessible online by clicking here.
Back