Prof. Judy George Receives Pathfinder Award
November 29, 2001
November 29, 2001, Greencastle, Ind. - Judy George, professor of health and physical performance at DePauw University, is the recipient of the Indiana Association for Health, Physical Education, Recreation and Dance's Pathfinder Award. George, who has served 39 years as a high school and college teacher/professor, coach and administrator of physical education, was recognized for her "longstanding dedication to the advancement of girls and women's sport, as evidenced by providing quality athletic opportunities for young women in the State of Indiana," the award reads.
George, who has received the same award at the national level, says, "To have ones peers grant this recognition is gratifying."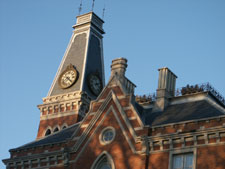 Judy George was among the first members of the Indiana Women's Intercollegiate Sports Organization boards, and coached DePauw's field hockey team for many years. Her 1990 squad competed in the NCAA Division III championship tournament. Professor George has authored more than thirty articles that have been published in journals including the Physical Educator and the Canadian Journal of Sports History. Her editorials have appeared in newspapers across America, including the New York Times, the Chicago Tribune and the San Francisco Examiner.
Back