DePauw Faculty Fellow Presents at 'State of Black World Conference'
November 30, 2001
November 30, 2001, Greencastle, Ind. - Kimberly C. Ellis, Faculty Fellow and part-time instructor in English and Black Studies at DePauw University, is in Atlanta making a presentation at the State of the Black World Conference (more information is available by clicking here). Ellis is on the panel for the 3:30 p.m. plenary session, entitled, "The September 11th Attack and the 'War' Against Terrorism: How Should People of African Descent Respond?." Among those joining Ellis as presenters are actor Danny Glover and Dr. Joseph Lowery, Atlanta, one of the founders of the Southern Christian Leadership Conference. Ellis will be talking about domestic terrorism and the Tulsa race riot, war and massacre of 1921, the topic of her doctoral dissertation.
The session may appear on C-SPAN in the coming days. To check the schedule of the three C-SPAN channels, go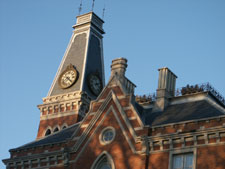 to the cable outlet's Web site by clicking here.
Kim Ellis will also be a guest on the Bev Smith talk show on Cincinnati's WDBZ radio (1230 AM) sometime between 11-11:30 p.m. tonight. You can listen to the program live via the station's Web site by clicking here. Once at the site, click on the square in the middle that says "listen live."
Back