Hear Holiday Music From Annual Candelight Concert
December 3, 2001
December 3, 2001, Greencastle, Ind. - The sounds of the holiday season resonated through Kresge Auditorium of DePauw University's Performing Arts Center last night, as the DePauw Festival Choirs and the DePauw Symphony Orchestra performed their annual Candlelight Concert.
More than 200 student musicians participated in the one hour program, and if you couldn't be in Kresge, that doesn't mean you've missed out! Here, for your listening pleasure, are a video clip of the carol "Silent Night"
[DOWNLOAD VIDEO: "SILENT NIGHT" 2108KB] and video and audio clips of "O Come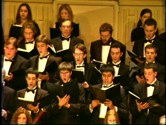 All Ye Faithful."
[DOWNLOAD VIDEO: "FAITHFUL" 5532KB]
[DOWNLOAD AUDIO: "FAITHFUL" 2592KB]
At the baton Sunday was Orcenith Smith, conductor of DePauw Orchestras.
Enjoy the music, and from all of us at DePauw University, Happy Holidays!
Back