The DePauw Wins 4 Newspaper Awards
December 3, 2001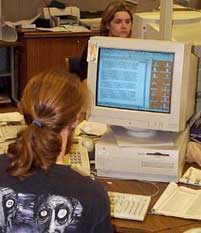 December 3, 2001, Greencastle, Ind. - DePauw's student-run newspaper, The DePauw, took home four awards from the Hoosier State Press Association's Better Newspaper Contest Saturday afternoon in Indianapolis. The DePauw won three first place awards and one third place award. The paper's editor, Eric Aasen, says, "We competed against large and small schools in Indiana, including Wabash, Indiana State, Ball State and Indiana University, the powerhouse journalism school. So, receiving awards in this competition is even more of an honor because we beat the big schools and their bigger staffs."
DePauw senior Matt Claus won first place in feature writing for "Students live the high life," a story about drug use.
Sophomore John Groth won third place in sports writing for "Fourth quarter heroics bring home the Bell," a story about DePauw's Monon Bell victory in November 2000.
May 2001 graduates Michelle Evans and J.K. Wall won first place in news writing for "A playboy life," a story about
Richard Hauff, who was killed in his Greencastle restaurant last spring.
The editorial board from last fall -- Jen Crum, Kim Bousquet, Todd Foose, Sara Bell, Evans and Wall -- won first place in opinion/editorial for "Pornography is news," an editorial explaining why The DePauw ran a story about pornography at DePauw.
The DePauw won three HSPA awards at last year's ceremony. Two more awards competitions are held in the spring -- the Society of Professional Journalists and Indiana Collegiate Press Association (ICPA).
Back