Robert Gates' DePauw Speech Gets Wide Media Coverage
December 4, 2001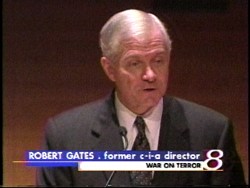 December 4, 2001, Greencastle, Ind. - "Robert Gates sounded some of the same themes that were touched on by British Prime Minister John Major when he spoke at DePauw," reporter Kohr Harlan of WISH-TV (CBS) in Indianapolis told his audience Monday night as he reported on the Timothy and Sharon Ubben Lecture by Gates, the former CIA Director. WISH's lengthy 11 p.m. piece was one of a number of media stories documenting Dr. Gates' day at DePauw.
In the 5 p.m. newscast of WRTV (ABC) in Indianapolis, Kristi Tedesco reported, "This war, many say, will be won through intelligence, and few are more prepared to talk about that than Dr. Robert Gates (who) spent 27 years working intelligence, an experience he shared with DePauw University students." WRTV's web site, The Indy Channel, has a story on Gates available online by clicking here.
Clips of Dr. Gates' speech were carried by a number of radio stations, including news-talk outlet WIBC in Indianapolis, and Network Indiana, which
serves stations throughout the state.
The Indianapolis Star's Terry Horne was on hand for Monday afternoon's news conference with the former CIA chief, and this morning's paper includes an article entitled, "Terror attacks jolted lives, ex-spy chief says." In the story, Horne mixes quotes from Gates with the thoughts of three DePauw freshmen: Matt Nehrenz, Kyle Stefankiewicz and Kim Schreiner. The text is available online at the Star's web site by clicking here.
To read complete coverage of Robert Gates' DePauw visit, including photos, text, audio and video clips, click here.
Back