Rob Apatoff '80 at the Table for CNBC's Power Lunch
December 5, 2001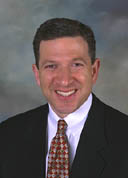 December 5, 2001, Greencastle, Ind. - If you were watching the nation's top cable television business channel during the middle of what's been a robustly strong day for the stock market, you were reminded of the uncommon success of DePauw University graduates. Rob Apatoff, a 1980 alumnus of DePauw, was a guest on CNBC's Power Lunch, which, as its name implies, runs during the noon hour in the eastern time zone and is seen worldwide. Apatoff, senior vice president and chief marketing officer of Allstate Insurance Company, was interviewed live to discuss his firm's sponsorship of the 2002 Winter Olympic Games in Salt Lake City, Utah.
Today, Allstate launched a program that will reunite members of the miracle on ice 1980 Olympic Winter Games men's hockey team for a series of youth clinics and a reunion game February 1, 2002, introducing a new generation of Americans to these outstanding role-models. Hockey legends on the roster for Allstate include 1980 goaltender Jim Craig, captain Mike Eruzione and defenseman Jack O'Callahan. Craig joined Apatoff on CNBC this afternoon.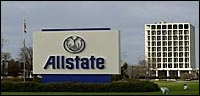 "Allstate is honored to have the opportunity to rekindle the excitement generated by the 1980 U.S. Olympic Men's Hockey Team," Apatoff said in a company news release. "The dedication and perseverance of these talented athletes is an example to emulate throughout our organization and embodies our 'Good Hands' commitment to our customers."
In December 2001 and January 2002, Allstate will sponsor four "Good Hands" youth clinics at National Hockey League hockey arenas in Philadelphia, Chicago, Washington D.C. and New York with cooperation from local National Hockey League teams. During the afternoon clinics, the hockey legends will share their love for the game, and speak about the importance of sportsmanship and teamwork, along with the role of patriotism in their history-making win. Following each clinic, several of the children will be invited to attend the evening's local NHL game. Between periods in Philadelphia and Washington D.C., the children will have the opportunity to participate in the Allstate "Good Hands" Challenge: a 'penalty shot' on goaltender Jim Craig with assistance from former captain Mike Eruzione.
A member of the Allstate senior management team, Rob Apatoff is responsible for the oversight of marketing efforts across the company including brand stewardship, marketing and brand strategy, ECRM (enterprise customer relationship management), advertising, corporate identity, customer communications, and the Allstate Research and Planning Center. He was previously Vice President of Corporate Marketing/Communications for Aetna U.S. Healthcare Inc. Prior to Aetna, Apatoff held senior marketing positions at Anheuser-Busch and Reebok International, Ltd. where he helped craft the introduction of innovative, integrated marketing programs such as the "Bud Bowl", the "Reebok Pump" and children's lighted shoes.
Apatoff also works to better his community. He is on the board of directors of the Goodman Theatre in Chicago and has served on the board of directors for Twin Laboratories, Inc. in New York as well as the boards of charitable foundations including the Starlight Foundation, Aetna and Reebok Foundations, and the Kidsports Foundation in Washington, D.C.
Back