Mark Mohler '79 Named Corporate Treasurer of Varian Medical Systems
December 14, 2001

December 14, 2001, Greencastle, Ind. - Mark R. Mohler, a 1979 graduate of DePauw University, has been elected corporate treasurer of Varian Medical Systems (NYSE:VAR) by the Palo Alto, California company's board of directors. In his new role, the 44 year old Mohler is responsible for domestic and international cash management, foreign exchange and derivatives, corporate finance, credit, receivables, stock administration and travel for Varian.
``Mark Mohler has broad experience and proven capabilities in international finance, mergers and acquisitions activity, foreign exchange management, and other critical corporate management issues,'' said Elisha W. Finney, chief financial officer for Varian Medical Systems. ``We are confident that Mark will be a highly effective manager and valued contributor to our company's financial operations.''
Mohler comes to Varian Medical Systems with experience as corporate treasurer of Palm, Inc., from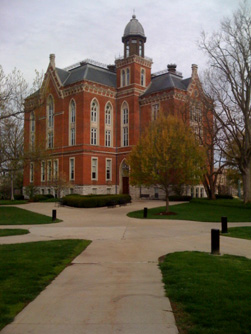 2000 to 2001, and vice president of treasury at Oracle Corporation from 1996 to 2000. He also served as an assistant vice president at Citicorp N.A., international treasury manager for The ASK Group, Inc., and manager of foreign exchange in North America for Aluminum Company of America (ALCOA).
After earning a B.A. degree in economics from DePauw, Mark Mohler was awarded an M.S. in information science from the University of Pittsburgh in 1981.
Varian Medical Systems, Inc., is the world's leading manufacturer of integrated cancer therapy systems, which are treating thousands of patients per day. The company is also a premier supplier of X-ray tubes and flat-panel digital subsystems for imaging in medical, scientific, and industrial applications. Varian Medical Systems employs approximately 2,570 people who are located at manufacturing sites in North America and Europe and in its 50 sales and support offices around the world. In its most recent fiscal year ended September 28, 2001, Varian Medical Systems reported sales of $774 million. You can learn more about the company at its web site, which can be accessed by clicking here.
Back