Dan Quayle '69 Witnesses Signing of US-Thai Investment Agreement
December 16, 2001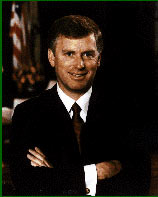 December 16, 2001, Greencastle, Ind. - Dan Quayle, former Vice President of the United States and a 1969 graduate of DePauw University, was on hand Friday as three firms from Thailand and Cerberus Asia Capital Management LLC signed a memorandum to establish a $500 million matching fund to invest in commercially viable businesses in Thailand. A story in Saturday's Bangkok Post says, "The launching of the fund, under a memorandum signed yesterday, is seen as an attempt by the government of Thaksin Shinawatra to allay the concerns of American investors about putting their money in the country."
The article continues, "Prime Minister Thaksin, on the first day of his trip to the United States, presided over the event. Finance Minister Somkid Jatusripitak and former U.S. vice-president Dan Quayle witnessed the deal."
Quayle helped broker the deal that led to Friday's signing. A Reuters story says Thailand's new prime minister is hoping new investment will reinvigorate companies that have been struggling since the Asian economic crisis began four years ago. "Thaksin said Thailand's political stability and central position in Southeast
Asia would attract U.S. capital looking for new avenues for investment," the Reuters article states. It quotes the prime minister as saying, "One thing that is clear is that American capital is trying to find new investment opportunities, because investors don't want to keep all their eggs in one basket... (Investors) see Thailand as a country which has political stability and is safe," he said.
You can read the Bangkok Post article by clicking here. The Reuters article is also available online by clicking here.
Back