Keira Amstutz '91 Leading Indianapolis Cultural Development Program
December 19, 2001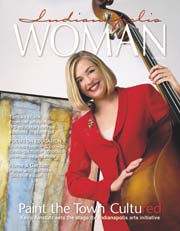 December 19, 2001, Greencastle, Ind. - Keira A. Amstutz, an assistant deputy mayor for Indianapolis and a 1991 graduate of DePauw University, is one of two administrators named to lead a city cultural development program. Amstutz (seen at left on the cover of the August 2001 Indianapolis Woman magazine) and Marty Peters, a former Indiana tourism official, are overseeing Mayor Bart Peterson's Commission on Cultural Development. An article in the Tuesday, December 18, 2001 edition of the Indianapolis Star says, "Amstutz, who has been in charge of cultural issues for the city since Peterson took office, will retain her role in the mayor's office and be paid by the city."
The new initiative is, in the paper's words, "designed to raise Indianapolis' profile and reputation in that field." You can read the entire Star article online by clicking here.
The Indianapolis Woman cover story on Keira Amstutz, written by Jean Slaymaker, reports that "Amstutz was the first person in her family to go to college when she entered DePauw University. 'I was very intimidated. I was from this podunk town and at a school with bright kids from all over the country who had educational experiences that I never had. So I studied my tail off,' laughs Hamilton High School's salutatorian. While there, she also ran cross-country for one year, joined Pi Beta Phi sorority and got a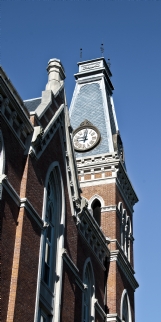 job as an aerobics instructor. After her sophomore year, she took off two semesters. 'One semester, I went to Washington, D.C., and worked on the Hill as an intern for Whitley County Democrat Congresswoman Jill Long. American University has a Washington semester that is something they do with DePauw and that's where I got the political bug,' she grins."
The IW article tells of how Amstutz, who practiced five years as a lawyer, became interested in politics as a child, and includes this glowing assessment from longtime Democratic activist Fred Glass, who says, "During my days as Evan Bayh's chief of staff, she was mature beyond her years even then. And she has further developed into an excellent lawyer, trusted advisor, loving mother and exemplary public servant. With all that, she still found time to very ably coach my daughter Katie's eighth-grade basketball team at St. Thomas Aquinas, providing the kind of role model you only dream of for your kids."
You can read the entire Indianapolis Woman article online at the magazine's web site, by clicking here.
Back