Events of 9/11 Will Affect Entertainment in 2002, Prof. Jeff McCall '76 Tells Paper
January 1, 2002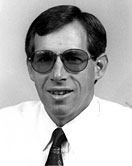 January 1, 2002, Greencastle, Ind. - "2002: The trend toward comfort is likely to continue," headlines an article in today's issue of Portland's Oregonian, which quotes several experts in popular culture and the media, including DePauw University Professor of Communication Arts and Sciences Jeffrey M. McCall, who is also a 1976 graduate of DePauw. The story by Kristi Turnquist takes a crystal-ball look at what the new year could hold in store for the entertainment industry, and how what we see and hear could be affected by recent events, most notably the terror attacks of September 11, 2001.
With patriotic songs like God Bless the USA on the playlists of many radio stations, America's current "star-spangled spirit may find audiences less comfortable with morally ambiguous characters, says Jeff McCall, professor of communication arts and sciences at DePauw University," Turnquist writes. "McCall predicts that the new TV season next fall will be strong on characters who are just plain good or bad, without Sopranos-like shades of gray. Such clear lines would mimic the rhetoric coming from the White House. 'The Bush administration has made it very clear that we're dealing with bad guys, evildoers, and they've made it very clear who the
heroes are,' McCall says. 'I think the public will respond to that and will want it in their entertainment.'"
The article can be read in its entirety at the Oregonian's Web site. Clicking here will take you directly to the story.
Source: The Oregonian
Back