'75 Alum David Becker's VIFI Sells for $51 Million
January 4, 2002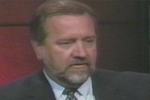 January 4, 2002, Greencastle, Ind. - Virtual Financial Services Inc. (VIFI), a fast-growing, Indianapolis-based technology company chaired and founded by David Becker, a 1975 graduate of DePauw University, will be changing hands. A California company that is VIFI's chief competitor for online banking services, Digital Insight Corp. of Calabasas, California, has announced plans to buy the Indiana firm for $51 million in cash and stock.
A story in today's Indianapolis Star by Chris O'Malley says, "The principal owner of the six-year-old company is chairman and founder David Becker. Not included in the deal are two other Becker ventures -- First Internet Bank of Indiana and re:Member Data Services. 'We have great opportunities on both sides,' said Becker. 'I'm not retiring.'"
VIFI, which provides online banking services to small and midsized financial firms, has experienced 2,353% revenue growth over the past five years, enough to land the #100 spot on Inc. magazine's list of fastest-growing companies and #253 among Deloitte & Touche's Technology Fast 500. The Star quotes Becker as saying that "'VIFI was
kind of at a crossroads.' Needing cash to fuel its growth, he was looking at possibilities ranging from an initial public stock offering -- or merger/acquisition. 'The markets have been so crazy recently,' Becker said. 'This happened to be the right time and the right opportunity. They're the 800-pound gorilla in our sector.'
You can read the Star's story in its entirety by clicking here. Watch for David Becker's scheduled appearance on this week's edition of the television program Inside Indiana Business, which is seen on stations throughout Indiana. You can access a complete listing of stations and showtimes by clicking here.
Back