Pat Aikman '57 Named 'Sagamore of the Wabash'
January 10, 2002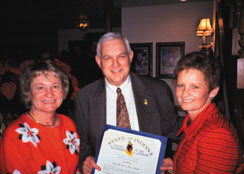 January 10, 2002, Greencastle, Ind. - J. Patrick Aikman, manager of promotions for the Indianapolis Star and a 1957 graduate of DePauw University, has been named a Sagamore of the Wabash, the highest award that can be granted by the Governor of Indiana. The award was presented by Indiana State Representative Susan Crosby (at Aikman's left in the accompanying photo) and State Senator Connie Lawson (pictured at Aikman's right).
Aikman spent many years as DePauw's Director of Public Relations and is active in a number of Putnam County organizations. In his role at the Star, which he's held for the past decade, Aikman's responsibilities include serving as game director of the Indiana-Kentucky High School All-Star basketball game, which has been referred to as the "world series of high school hoops."
The Sagamore of the Wabash award was created during the term of Indiana Governor Ralph Gates who served from 1945 to 1949. The term "sagamore" was used by the American Indiana Tribes of the northeastern United States to describe a great man among the tribe to whom the true chief would look for wisdom and advice. The award is a personal tribute usually given to those who have rendered a distinguished service to the state or to the governor. Recipients have included astronauts, presidents, ambassadors, artists, musicians, politicians and ordinary citizens.
Aikman's contributions to his alma mater include creating the concept for The Ballad of the Monon Bell, which was written and recorded by fellow alumni in 1985 and has become a staple of the football rivalry between DePauw and Wabash College.
Back