Terror Trial Should Not Be Televised, DePauw Prof. Tells Indy Star
January 15, 2002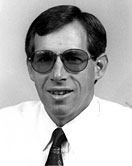 January 15, 2002, Greencastle, Ind. - "DePauw University communications professor Jeff McCall has thought a lot about whether the trial of suspected terrorist Zacarias Moussaoui should be broadcast. And he says the answer is no," begins Marc Allan's TV-radio column in today's Indianapolis Star. Two television networks are asking a judge to reverse the ban on cameras in federal courtrooms, and a decision is imminent. Dr. McCall, a 1976 graduate of DePauw, has been reviewing the debate over televising the trial of Mossaoui, the so-called "twentieth suspected hijacker." The Star's Allan writes, "What makes McCall's position unusual is that he's normally an advocate for cameras in the courtroom."
McCall tells the paper, "I think the broadcasters are thinking, 'We can hit the government at a moment when they're vulnerable because the public may side with (us) on this one.' That's not the best way to get these kinds of decisions made." Later, he adds, "it's an emotional case, it's a sensational case, and the nation's emotions may be a little too raw."

McCall is quoted liberally in the story, which is available online by clicking here.
The professor was also interviewed on this issue today by Network Indiana, a radio network that serves stations throughout the state with news and talk programming.
Source: Indianapolis Star
Back