Rufus Wainwright at DePauw February 24th
January 15, 2002

January 15, 2002, Greencastle, Ind. - Critically-acclaimed singer-songwriter Rufus Wainwright, Rolling Stone magazine's best new artist for 1998, will bring his North American concert tour to DePauw University, Sunday, February 24, for an 8 p.m. performance in Kresge Auditorium. Opening the show will be Teddy Thompson. Tickets, which are $5 for students, faculty and staff with a valid DePauw ID, and $10 for all others, will go on sale to campus buyers January 28 and to the general public through Ticketmaster February 1.
The child of folk music pioneers Loudon Wainwright III and Kate McGarrigle, Rufus Wainwright was raised in Canada and began playing piano at age six. By 13 he was touring the United States with his sister, mother and aunt. A year later, his song "I'm A-Runnin'" was nominated for a Genie (the Canadian equivalent of an Oscar) for Best Song in a Film. Also that year, Wainwright was nominated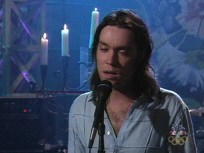 for a Juno (the Canadian equivalent of a Grammy) for Most Promising Young Artist. In 1998, he released his self-titled debut album on DreamWorks Records. His second recoding, Poses, arrived in stores last year. He's also contributed songs to several movies, including Shrek and Moulin Rouge (he's seen at right performing The Beatles' "Across The Universe" on NBC's Tonight Show; the song is included on the I Am Sam motion picture soundtrack).
The New York Times called Wainwright, "One of the most whimsical and original young singer songwriters to come around in years." The Denver Post wrote, "The kid marches to a different beat than his parents, tapping into cabaret and Gershwin-tinged romanticism with charming results." Wainwright himself has said of his music, "Someone called it 'modern standards.' Someone else called it 'popera.' I call what I do entertainment. You're there; I'm the show. I'm here to serve you."
Jason Ankeny writes in All Music Guide, "Coming out as a homosexual while still in his teens, Wainwright sought solace in opera throughout his adolescent years, also becoming an enormous fan of performers including Edith Piaf, Al Jolson and Judy Garland. After attending the prestigious Millbrook School in upstate New York, he briefly studied

music at Montreal's McGill University, eventually turning away from classical performance towards pop and rock." Ankeny says Wainwright's "lush, theatrical pop harked back to the traditions of Tin Pan Alley, cabaret and even opera."
In a ten point (on a scale of ten) review of "Poses" last June, Entertainment Weekly wrote "with Broadway-worthy new standards, and a strong supporting cast, Wainwright delivers a flawless, flip-flopless performance." Spin Cycle, which gave the new record a 9 out of ten score, offered "Part torch song, part Broadway, part cabaret, Poses is as theatrical as its animated creator is in performance." Wainwright toured with Tori Amos last fall, after embaring on a series of solo dates earlier in the year. He also provided background vocals on Elton John's "American Triangle," a tribute to Matthew Shepard, the gay University of Wyoming student who was brutally murdered in 1998 because of his sexual orientation. The song appears on John's latest album, Songs From the West Coast.
Greg Dillon, director of campus life, says DePauw students have been inquiring about bringing Rufus Wainwright to campus

[DOWNLOAD VIDEO: "DILLON-RUFUS" 864KB] "since the spring of 2001. We made some attempts to get him for the fall semester, but his tour schedule didn't work out for us. I'm glad it worked out. This should be a wonderful evening of entertainment."

Like Wainwright, Teddy Thompson comes from rich musical stock. He is the son of Richard and Linda Thompson, British folk-rock legends whose album Turn Out the Lights regularly appears on lists of the best rock records of all time. In the summer of 2000, Teddy Thompson released his self-titled debut album for Virgin Records, on which Rufus Wainwright provided some harmonies.
For information about the February 24 Rufus Wainwright-Teddy Thompson concert at DePauw, call (765) 658-4850.
Back