From Planning Super Bowl XXXVI to Social Service Work: DePauw Students Spend Winter Term 2002 in Variety of Ways
January 16, 2002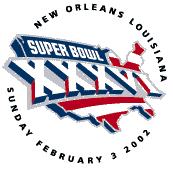 January 16, 2002, Greencastle, Ind. - Katie Sorensen's Winter Term is the opportunity of a lifetime. Sorensen, a junior Music Business major, is interning with Clear Channel Entertainment in St. Louis -- the company devoted to developing this year's Super Bowl halftime show. Working with both the special events and concert divisions of Clear Channel, Sorensen is gaining hands-on experience in the music industry. She has been actively involved in the planning for the Super Bowl and has also been involved with concert bookings for St. Louis venues.
"I have been learning non-stop since I arrived here and it seems like the more I talk to people in the office, the more valuable information I learn about my possible career choices," says Sorensen of her internship experiences.
Students this year are also interning with the sales department of MTV in Chicago; Case de los Angeles, a social services organization in Mexico; the Indiana School for
the Blind; the Chicago Blackhawks and the National Institute for Literacy in Washington, D.C.
Marie Mackintosh, Winter Term Internship Coordinator, said that the three-week internships are important to students for many reasons.
[DOWNLOAD VIDEO: "Students Benefit" 151KB]
[DOWNLOAD AUDIO: "Students Benefit" 70KB] "For being such a short period of time, students get so much out of it," Mackintosh says.
The internships offer students the opportunity to experience many different profession al fields and the chance to determine whether their academic interests correspond with career goals, according to Mackintosh. She adds that these internships are especially beneficial to students after they graduate, providing them with contacts and a diversified resume.
[DOWNLOAD VIDEO: "Most Important" 996KB]
[DOWNLOAD AUDIO: "Most Important" 456KB] "The most important thing that students take away, I suppose, are the contacts. You know, having the opportunity to do three different internships means that you have three more people that know what you're capable of doing once you graduate," said Mackintosh.
According to Sorensen,
her co-workers at Clear Channel agree that college internships help after graduation. "Everyone I have talked to here has told me that their participation in internships is what helped them the most, even more than any class they ever took in college. While the education helps them in their work, their past internships really helped them with landing a job in the business. I'm very confident that my time here at Clear Channel will help me in the future."
Mackintosh believes that internships are beneficial to students for other reasons saying, "Another important thing that students can take away from the internships is what they don't want to do – that they're not interested in doing that. Maybe one of the most valuable experiences that students can obtain is learning that they don't want to go into a certain field because of this three week experience."
Along with establishing contacts, students also gain first-hand experience in the job search process by setting up their own internships. All Winter Term internships are self-directed, meaning students search for and set up their own internship program.
The search for a Winter Term internship, "gives students at a younger age the opportunity to have a trial-run at finding a job" says Mackintosh. DePauw students use many different methods to find their internship, the most popular being the use of personal contacts. Students also have access to books and online catalogs through the University Career Center. The extensive DePauw Alumni Career Network can also provide assistance and the Winter Term Office has an
online database of about 70 past internship hosts.
Mackintosh says Winter Term internships draw positive responses from both students and hosts.
[DOWNLOAD AUDIO: "Positive Responses" 158KB] "The biggest complain that we might receive that it didn't seem long enough for the students to get really involved."
But Katie Sorensen bears witness to the fact that, in less than a month's time, a lot of new things can be learned and new contacts can be made. "While it is hard to learn a lot in that short period of time, I feel that in my experience so far, I have learned so much -- and I still have a week and a half left!"
Back