On Campus and Off, DePauw Will Celebrate Dr. King's Dream
January 18, 2002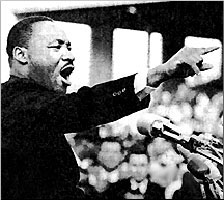 January 18, 2002, Greencastle, Ind. - As America prepares to observe the birthday of civil rights leader Dr. Martin Luther King, Junior on Monday's national holiday, the DePauw community is planning several celebrations in Indianapolis, Atlanta, Chicago and Greencastle.
This Sunday, January 20, DePauw's new Alumni of Color Advisory Council (ACAC) and the Indianapolis Regional Alumni Council will present a jazz brunch and "Buy a Book, Give a Book" philanthropy. The event will take place from noon to 3 p.m. at The Jazz Cooker, 925 E. Westfield Boulevard in Indianapolis' Broad Ripple area. Guests at this event can browse through a selection of children's books provided by Xpressions Book Store in Indianapolis. The selections, ranging from $5 - 8, are intended for children from pre-school through sixth grade, with a wide variety of multicultural themes and settings. The books will be donated to several schools following the event. The program will include musical entertainment after the brunch. Cost of the brunch is $20 for adults, and $10 for children age 12 and under. For more information, contact Lisa Bennett '93 at (317) 920-0428.
Alumni in Atlanta are planning to participate in the Hosea Williams Feed the Hungry Dinner on Monday, January 21. For more information contact Holly Dugger '98 at (678) 422-0520, or by email by clicking here.
DePauw alums in Chicago will be remembering Dr. King's dream Monday with an event at the DePaul University Center in the Windy City.
At DePauw, Indiana Reading Corps and the Hartman Center for Civic Education and Leadership will sponsor a Putnam County festival in honor of Martin Luther King, Jr., on Sunday, January 20, at 2 p.m. in Kresge Auditorium. The interactive event highlights Civil Rights history and Putnam County's diverse community of voices through art, music, dance and drama.
An art exhibit in Kresge Auditorium's lobby will feature paintings, woodwork, ceramics, masks and drawings by Putnam County public schoolchildren and private artists. Musical celebrations will include a sing-along led by the All-County Choir of Lift Every Voice and Sing and America the Beautiful, civil rights-era songs by county artists and the Indianapolis Women's Choir, and meditative pieces by county choirs and the Bells of Gobin. Dramatic acts will include an Abe Lincoln look-alike reading The Emancipation Proclamation, Hartman Center

staff and Putnam County mothers reciting the poetry of Langston Hughes, and the Dean of DePauwís Chapel reading The Civil Rights Act of 1964. Putnam County schoolchildren will perform skits re-enacting historic events in the civil rights movement, such as a lunch counter sit-in and the Birmingham bus boycott.
Organizer Sue Parsons says, "The Indiana Reading Corps and the Hartman Center are proud to sponsor a county-wide celebration of Dr. Martin Luther King, Jr.'s life and legacy. His example of non-violent leadership for racial equality and social justice makes me proud to be an American and proud to lead Putnam County in celebrating his life and teaching." Parsons says in light of recent world events, remembering the civil rights movement's commitment to social change through nonviolence holds even greater meaning. "Peace, equality and justice for all starts at home. If we teach our children well, then they will do what is right, and government of all the people, by all the people, and for all the people will prevail."
Nicole Hallett, a Reading Corps volunteer and a DePauw senior, notes, "At this festival, there will be something for every child and adult to enjoy. It is a great way to bring Putnam County together to remember an American whom no one should ever forget."
Back