New Airport Security Rules Affect Everyone, Even Former VP Dan Quayle '69
January 21, 2002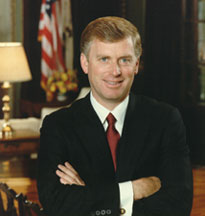 January 21, 2002, Greencastle, Ind. - The intensified efforts to ratchet up security at America's airports is leading to delays for travelers, and according to the Los Angeles Times, rank no longer carries special privileges. "There's no express line at the airport, even for Very Important Passengers," Nancy Benac writes in a story entitled "Congressman Forced to Strip at Airport." She continues, "In an age of increased security, notables and no-names alike are getting the once-over and then some at airports around the country. Members of Congress and their kids, former Vice President Dan Quayle, Transportation Secretary Norman Mineta-- all have gotten the full treatment from screeners."
The article notes that 75-year-old Congressman John Dingell, a 46 year veteran of Capitol Hill, "was asked to drop his trousers at Washington's Reagan National Airport." Benac says Quayle, the nation's 44th Vice President and a 1969 graduate of DePauw, has also been subjected to a lengthy search. "Quayle, who had the metal file on his toenail clippers confiscated on a flight out of Washington after guards poked through every item in his carryon suitcase, joked today, 'I guess I looked like a security threat.'"
Later in the article, he is quoted again. "'They're making it very difficult to fly,' said Quayle, who says he was cooperative during his own screening. 'They've got to come to grips with this. You see young children and elderly women being searched. ... They need to be a little more definitive on who they really ought to be doing this to.'"
You can read the entire article online at the Times' web site. The story is accessible by clicking here.
Back