Take a Bite Out of DePauw Little Theatre's The Vampire Jan. 31-Feb. 3
January 25, 2002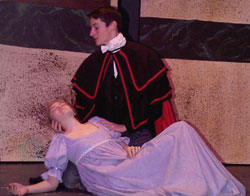 January 25, 2002, Greencastle, Ind. - For four nights only, the melodramatic tale of The Vampire (also known as "The Bride of the Isles"), will unfold on the stage of Moore Theatre in DePauw University's Performing Arts Center.
Directed by Susan Anthony, the DePauw Little Theatre production will run from Thursday, January 31 through Sunday, February 3, 2002 (student actors Cody Cranch and Andrea Brace are featured in the photographs seen here). All performances begin at 8 p.m. except for Sunday, when the curtain rises at 2 p.m.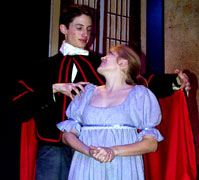 The Vampire, a melodrama written by J.R. Planche in 1820, weaves the fantastic tale of a pale, aristocratic vampire named Lord Ruthven. At the start of the play, we learn that Ronald, the brave Baron of the Isles, has unknowingly betrothed his only daughter to Lord Ruthven, whose only intention is to feed upon the girl's blood before the setting of the moon.
In the style of American theatrical productions of the early 1800s, The Vampire will include a cast clad in period costumes, live music, intermission entertainment, and several off-stage "characters," including a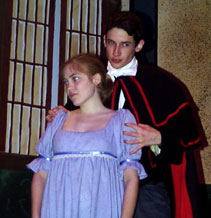 constable, some "impures" and an old-time theatre manager. Refreshments of the period will also be served at intermission.
Don't miss this tale of mystery, vampires, moonlight and more! Tickets are $6 for adults, $3 for students.
For more information or to reserve tickets, call (765) 658-4827, send an e-mail by clicking here, or visit the Performing Arts Center's web page by clicking here.
Back