Prof. Ellen Maycock's Journey Profiled in New York Times
January 25, 2002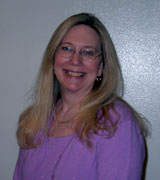 January 25, 2002, Greencastle, Ind. - "People come to Paris seeking art, food, beauty, romance. Ellen Maycock came looking for her mother," begins an article in today's New York Times that tells the unique story of a DePauw University professor's quest to learn more about her mother. Written by John Tagliabue, the story "Ellen Goes to France: Mother Blazed the Trail" appears in the International section of the Times in the Paris Journal and includes a color photo of Dr. Maycock and a black and white shot of her mother, Sarah Alice Johnston (seen below at right).
"Some years ago, Ms. Maycock, 51, a mathematics professor at DePauw University, said she dragged down the letters she had stored for years in her attic, and found herself 'standing in the shadow of a very strong and interesting woman.' Now Ms. Maycock is spending a year in France,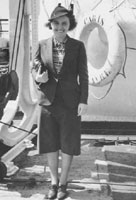 retracing Sally's steps and the paths of the 51 other students who accompanied her mother to Europe," Tagliabue writes.
Maycock's mother, who was known to her friends as "Sally", spent her junior year of college studying in France. It was 1938-39 and war was raging in Europe. Sally's 600 pages of letters, written to her parents and younger sister back home (some were even printed in the Detroit News at the time), tell of life in Paris. In one, she writes of the love Parisians have for wine: "like a food — if you don't like it, it's like not liking spinach." In another, she states, "Over here, l'amour de la patrie (love of country) is very strong, especially in smaller countries menaced by Hitler. And the youth especially are willing to risk anything for their patrie. It kinda makes your blood crawl. But so does Hitler."
While in Paris, Sally fell in love with a Czech student, Jiri Vitinger, whose name is mentioned in many of the letters. Professor Maycock, who is spending her sabbitical in Paris writing a book-length manuscript entitled "In Search of Her Mother's Paris," has reconnected with Sally's Paris roommate and found Vitinger's son on the Internet, and learned what became of the man her mother loved in the year that she always carried with her.

'Somehow it was a touchstone that she would go back to draw on,' Ms. Maycock said. Once, when she was 16, she fell sick while traveling with her mother in Central Europe. Her mother repeatedly told her, 'When we get to Paris, everything will be O.K.' "
You can read the lengthy Times article in its entirety online by clicking here (a paid subscription is required). Dr. Maycock also has created a Web page that tells of her project. You can visit it by clicking here.
Source: New York Times
Back