Arts Patron Dr. Curtis Clark '52 Remembered by Indianapolis Star
January 27, 2002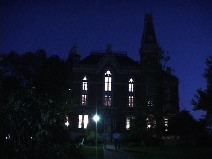 January 27, 2002, Greencastle, Ind. - "Anyone who would draw attention to Indianapolis as a cultural center will be building on groundwork of longtime arts patrons, such as Dr. Curtis V. Clark," writes Whitney Smith in today's Indianapolis Star. Clark, a 1952 graduate of DePauw University, passed away January 15, 2002 at age 72. A dentist, Dr. Clark spent his spare time helping to develop the arts community of Indianapolis, and served as founding general chairman of the board that launched the International Violin Competition of Indianapolis in 1982. The event, which draws talent from around the world, continues to this day. Clark was also president of the board of the Indiana State Symphony Society from 1982 to 1987.
Smith writes, "An Indianapolis dentist until he retired about three years ago, Clark maintained a lifelong interest in the performing arts. Having studied music at DePauw University and in Vienna, Austria, he had a special regard for duo-piano performance."
In 1982, the year the violin competition began, the Star's Corbin Patrick called the event "a masterpiece of organizational work." He called Clark "the man of the year in music here."

The article contains several testimonials to Dr. Clark and the good he did for the arts. It concludes with this quote from a 1981 interview with the Indianapolis News. Clark told the paper, "I am oriented to classical, but that doesn't take away my appreciation for all music. Jazz is thoroughly American. George Gershwin took blues and jazz and lifted them to new heights. Many symphonies are filled with folk melodies. Country, rock -- we shouldn't sneer at any form of music that's part of our heritage."
The Star article can be read in its entirety at the newspaper's web site, and can be directly accessed by clicking here.
Back