US Labor Secretary Elaine Chao to Provide 2002 Commencement Address
January 30, 2002
January 30, 2002, Greencastle, Ind. - U.S. Secretary of Labor Elaine L. Chao, the first Asian American woman appointed to a President's cabinet in the nation's history, will be the featured speaker at DePauw University's 163rd annual commencement ceremony, Sunday, May 19, at 1 p.m. on the grounds of historic East College. The selection of Chao was announced today by Theresa F. Bryant, director of community affairs and assistant to DePauw University President Robert G. Bottoms.
America's twenty-fourth secretary of labor, Elaine Chao was confirmed by the United States Senate on January 29, 2001. As technology and globalization change the way employees work and employers do business, Chao has pledged to focus on the emerging realities of the new economy and to ensure that laws governing the workplace are more flexible for working people. Secretary Chao describes herself as an advocate for a "strong and productive workforce in which everyone can participate, where jobs and opportunities are available for those leaving welfare, job training is accessible for those left behind, disability never bars a qualified person from the workplace, and where parents have an easier time balancing the responsibilities of work and home."
Chao's Labor Department is engaged in a myriad of current issues including economic revitalization, challenges to affirmative action and is investigating to determine whether Enron Corporation violated federal laws governing pension assets. President George W. Bush has said, "Elaine Chao believes deeply in the American dream because she has lived it. She came to America at the age of eight not knowing a word of English. Her successful life gives eloquent testimony to the virtues of hard work and perseverance, and to the unending promise of this great country."
Before coming to the Labor Department, Chao was a Distinguished Fellow at The Heritage Foundation, a Washington-based public policy research and educational institute. Prior to that, she served as president and chief executive officer of United Way of America, where she restored public trust and confidence to the nation's largest institution of private charitable giving after the organization was tarnished by mismanagement and financial abuse. Chao has also been deputy secretary of the U.S. Department of Transportation and was director of the Peace Corps, the world's largest international volunteer organization. She established the first Peace Corps program in the Baltic nations of Latvia, Lithuania, Estonia, and the newly independent states of the former Soviet Union. "I personally have seen the horrific condition that children have to labor in in some of these countries. And so you can be assured t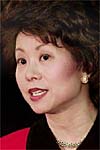 hat I will support vigorous support of U.S. laws prohibiting the use of child labor.
Secretary Chao received her M.B.A. from the Harvard Business School and her undergraduate degree in economics from Mount Holyoke College. Active in many volunteer activities, Secretary Chao has received numerous awards for her professional accomplishments and community service. She is the recipient of 12 honorary doctorate degrees from colleges and universities across the country.
Secretary Chao is married to United States Senator Mitch McConnell of Kentucky.
Back