Rob Apatoff '80 and Olympic 'Miracle' Goalie Ring Closing Bell on Wall Street
January 31, 2002
January 31, 2002, Greencastle, Ind. - For Rob Apatoff, senior vice president and chief marketing officer at Allstate and a 1980 graduate of DePauw University, it was "an incredible feeling... something I'll never forget. On Tuesday, January 22, 2002, Apatoff and Jim Craig, goaltender for the gold medal-winning 1980 U.S. Olympic Hockey team, rang the closing bell at the New York Stock Exchange. Carried by networks around the world live and in news programs, the closing bell has been called the most widely-viewed daily event in the world. (Pictured L-R: Dick Grasso, chairman of the NYSE; Jim Craig; Rob Apatoff)
Allstate is a sponsor of the 2002 Winter Olympic Games. Apatoff was joined by Craig, whose team that defeated the Soviet Union in the famous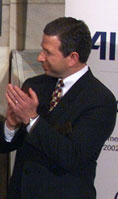 "Miracle on Ice," to celebrate the "Good Hands" award, which will be awarded to the person(s) in each Olympian's life who has been their "good hands" inspiration to help them achieve their Olympic dreams.
The following day, Craig and Mike Eruzione, the former Team USA captain and scorer of the game-winning goal against the Soviets, conducted the last of four Allstate-sponsored youth clinics at New York's Madison Square Garden. Previous clinics were held in Philadelphia, Chicago and Washington, D.C. Allstate is also sponsoring a "Miracle on Ice" reunion game Feb. 1 in Los Angeles. It will mark the first time since 1980 that all the members of that fabled squad will be together.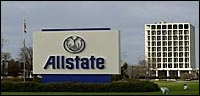 In 1980, the U.S. economy was in recession, much like it is today. NYSE Chairman Dick Grasso told Craig that Team USA's upset of the Soviets was a symbol for the economy's eventual resurgence. After ringing the bell, Craig was interviewed on CNNfn, where he told host Christine Romans about the legendary U.S. squad: "Our team represented what this country is all about being an underdog and having opportunities," he said. "We made the most of them with the support of all our fellow Americans." Craig, who is likely best remembered for draping himself in the American flag after the gold-medal game against Finland, is
currently an account manager for Valassis Communications Inc., one of the largest publishers of print sales promotional material.
Rob Apatoff has had a remarkable and colorful career since graduating from DePauw. A member of the Allstate senior management team, Rob Apatoff is responsible for the oversight of marketing efforts across the company including brand stewardship, marketing and brand strategy, ECRM (enterprise customer relationship management), advertising, corporate identity, customer communications, and the Allstate Research and Planning Center. He was previously vice president of corporate marketing/communications for Aetna U.S. Healthcare Inc. Prior to Aetna, Apatoff held senior marketing positions at Anheuser-Busch and Reebok International, Ltd. where he helped craft the introduction of innovative, integrated marketing programs such as the "Bud Bowl" and the "Reebok Pump."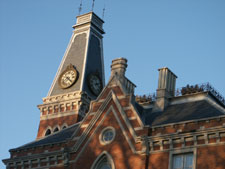 Apatoff also works to better his community. He is on the board of directors of the Goodman Theatre in Chicago and has served on the board of directors for Twin Laboratories, Inc. in New York as well as the boards of charitable foundations including the Starlight Foundation, Aetna and Reebok Foundations, and the Kidsports Foundation in Washington, D.C.
Back