Faculty Art Show Feb. 4- March 6 Includes Exhibits, Talks, Screenings
February 1, 2002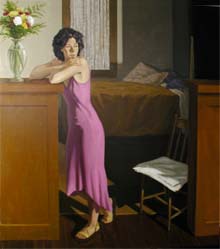 February 1, 2002, Greencastle, Ind. - DePauw University's Department of Art will present the 2002 Faculty Show February 4 through March 6, 2002. The works of Yara Ferreira Cluver, David W. Herrold, Robert D. Kingsley (his The Woman in Purple is seen at left), Cynthia O'Dell, Barbara Fields Timm and Peter Van Ael will be on display in the gallery of the Emison Art Center on the DePauw campus from 9 a.m.-4 p.m. Monday through Friday; 10 a.m.-4 p.m. Saturday and from 1-5 Sunday afternoons.
An opening reception will take place Monday, February 4 at the Art Center from 4-5:30 p.m. and will feature gallery talks by the artists. There will also be a series of artist talks and screenings in the Watson Forum of the Pulliam Center for Contemporary Media. On Tuesday, February 5, from 4:15 to 6 p.m., Professors Cluver and O'Dell will present a talk. The following day, February 6, Professors Herrold and Van Ael will speak. Thursday, February 7, Van Ael will be joined by Professor Timm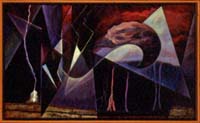 (her Midwest Storm is seen at right). The events on the 6th and 7th will begin at 4:15 p.m. and end at 5:30.
Professor O'Dell will present screenings of her video Residue of Memory at 4:15 p.m. on February 15, 22 and March 1, all in the PCCM's Watson Forum.
All of the events are free and open to the public. For more information, call (765) 658-4336 or click here.
Back