Professor's 'Challenging' Speech Gets Indianapolis Star Coverage
February 2, 2002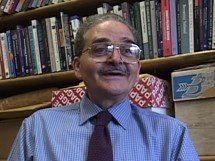 February 2, 2002, Greencastle, Ind. - A DePauw University political science professor's "Message on unity offers a challenge to what we think," stated a headline to an Indianapolis Star column by Jeff Zogg. Of the recent speech at the Whiteland United Methodist Church in Johnson County, Indiana, Zogg wrote, "Jerry Hyde, pastor of the Trafalgar and Mount Olive United Methodist churches, introduced the speaker, Nafhat Nasr, a DePauw University professor who was raised in Lebanon and lived in the Middle East most of his life. Nasr, Hyde told us, would 'challenge us to think about the world in which God has put us.' And that he did."
Dr. Nasr's address, at the annual "Week of Prayer for Christian Unity" service sponsored by the Johnson County Ministerial Association, was entitled, "What Many of the World's People Admire in the American Way: and What Has Led Many to Mistrust the USA and Even, in Some Cases, to Hate Our Culture and Policies." Zogg writes, "Nasr told us America was appreciated around the globe for its rescue of the oppressed. He said the economic machine in the states supplies thousands of families overseas with a decent standard of living. The simple American dream and the hope for a better tomorrow keep uncounted multitudes alive, Nasr said."

However, the writer continues, "Nasr also reminded us that as Americans, we are resented and even hated abroad. Nasr blamed much, if not all of that, on American support of Israel... He also pointed the finger of blame at America's consumption of the world's resources and its inconsistent and sometimes contradictory policies in the Middle East. He called upon the United States to exercise leadership -- less through military might (though he supported the destruction of terrorists and terrorist organizations) -- and more through the United Nations. He called for an open, worldwide dialogue regarding religions. Then we sang They'll Know We are Christians by Our Love."
You can read the entire article at the Star's web site, by clicking here.
Dr. Nasr, professor and chair of political science, came to DePauw in 1987 with international credentials and experience.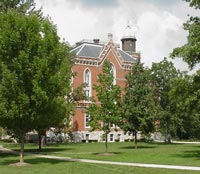 A native of Lebanon, Dr. Nasr has taught at universities around the world, including the American University of Cairo, a job he had to leave because of a war in 1967. He has also taught at the American University of Beirut, Vanderbilt University, Indiana University and the University of Southern Illinois.
Nasr has also served as an occasional analyst in areas relating to political reorganization, foreign policy and as a member of the Board of Examiners for the Diplomatic Service in Lebanon. Dr. Nasr earned bachelor's and master's degrees from American University in Beirut in public administration. He earned his doctoral degree from Vanderbilt in international relations and organizations in 1966.
Source: Indianapolis Star
Back