Faster, Friendlier Computing Coming to DePauw
February 4, 2002
February 4, 2002, Greencastle, Ind. - A major project that promises to make it easier for students, faculty, administrators, parents and alumni to access information, forms and communicate via computer is underway at DePauw University. President Robert G. Bottoms has approved an initiative to make better use of technology in DePauw's administrative operations, a move that will improve services and cost efficiencies.
Lou Miller III, associate vice president for academic affairs and coordinator of information systems and technology at DePauw says the project will focus on administrative technology, which is, in some ways,

[DOWNLOAD VIDEO: "The Glue" 481KB]
[DOWNLOAD AUDIO: "The Glue" 221KB] "the glue that holds the University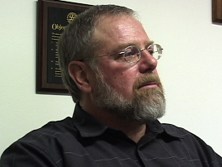 together, because increasingly we're computerizing all of our administrative processes, everything from admissions to payroll."
DePauw's administrative computing system currently allows students and professors to perform a variety of tasks via the Internet, from registering for classes, checking financial aid status and entering grades. Dr. Miller says,

[DOWNLOAD VIDEO: "e-Services" 704KB] "If you take a look at the faculty e-services and the student e-services, you begin to get a vision of the future. We may have to add to that the staff e-services, alumni e-services (and) parent e-services," so that functions that now require a letter, phone call or e-mail can be performed automatically online.
Until now, for many clients on and off-campus,
[DOWNLOAD AUDIO: "Empowering" 470KB] "If you wanted something, you had to call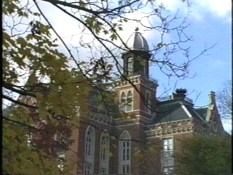 up Computer Services. 'Gee, can you create this report for me? I need this information, can you provide it for me? I need a report printed, can you print it and make it available to me? And I think the new vision is to have offices much more responsible, much more empowered in terms of computing," Miller says. "So, if you want a report, you can sit down and you've got the tools to that make it really easy to get the data you need."
The project is expected to take three years to complete, beginning with a detailed planning phase that is now underway. The University began setting aside funding for the $1.5 million project cost two years ago. Vice president for academic affairs Neal Abraham will have overall responsibility for the initiative and a project team is being assembled. There will be regular communications to the campus about the progress of the project and there will be ample opportunities for input from all.

[DOWNLOAD VIDEO: "Collaborative Effort" 764KB]
[DOWNLOAD AUDIO: "Collaborative Effort" 351KB] "We don't want to start with a vision that we're going to impose on the campus," Dr. Miller stated. "Rather, (we hope to) have a whole series of sessions where people
tell us what their needs are; 'what is it you want to do?'"
DePauw has been making strides in the area of technology, as proven by its recent climb into the top 10% of the "most wired" small colleges in America. You can read more about the findings of Yahoo! Internet Life by clicking here. The University has upgraded and initiated a number of technology initiatives with the help of a $20 million grant from Lilly Endowment, which funded an eLearning center at DePauw. Read more about the grant by clicking here.
Additional information about the project organization can be found by clicking here.
Back