'College Goal Sunday 2002' Provides Help, Answers for College Entrants & Their Families
February 4, 2002
February 4, 2002, Greencastle, Ind. - Indiana students and their parents who are looking for information on college financial aid and assistance in completing paperwork are invited to the 13th annual College Goal Sunday. The statewide, charitable program takes place this Sunday, February 10, 2002 at 2 p.m. at thirty-four sites in 29 Indiana communities, including the F.W. Olin Biological Sciences Building, 1 East Hanna Street, on the campus of DePauw University in Greencastle.
At College Goal Sunday 2002, financial aid professionals provide free assistance to students and families in completing the Free Application for Federal Student Aid (FAFSA), the form required for federal financial aid and by most colleges, universities and technical schools nationwide. To receive maximum financial aid awards, students must complete their paperwork correctly and on time, and the event will help families do just that.
Open to college entrants and students of all ages, College Goal Sunday targets low-to-moderate income students. Students who are 23 years of age or younger should attend with their parent(s) or guardian(s) or may attend alone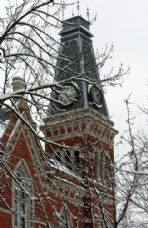 and bring their parents' completed IRS 1040 tax return, W-2 form or other 2001 income and benefits information. Students 24 and older may attend alone and bring their own completed 1040 return, W-2 or other financial documents.
"College Goal Sunday can go a long way in dispelling erroneous ideas about financing college," says Sara B. Cobb, vice president for education of Lilly Endowment. "It proves that college and university attendance-- and success-- is indeed a very real possibility." Martha D. Lamkin, president and CEO of the Lumina Foundation for Education adds, "By helping first-generation college students secure financial aid, College Goal Sunday is helping them improve their own lives. The breakthrough can raise the potential for every generation after them."
You can learn more about by calling (800) 992-2076 or by clicking here.
Back