2000 Graduate Amy Hasbrook Remembered
February 4, 2002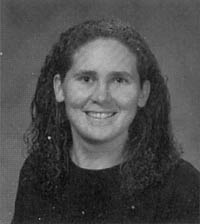 February 4, 2002, Greencastle, Ind. - The DePauw University family is mourning a tragic loss. Amy E. Hasbrook, a 2000 graduate of DePauw, was killed in an early morning fire at the northside Indianapolis home of her parents. Details are available through the Indianapolis Star by clicking here and here. Another article, on the MSNBC Web site, can be accessed here.
The daughter of Daniel ('67) and Barbara Hasbrook, Amy played basketball at DePauw, majored in health and physical performance (sports science) and was a member of Kappa Alpha Theta sorority. She was twice named to the Southern Collegiate Athletic Conference Academic Honor Roll, was a second team all-SCAC player as a senior and honorable mention as a junior. She had been working as assistant director of basketball operations, communications and championships for the Horizon League, an Indianapolis-based conference of smaller universities.
Kris Huffman, head coach of DePauw's women's basketball team, said, "We have lost a member of our basketball family. Amy was a tremendous young woman. She had a large impact on all of our lives. The team is concerned about the members of her family." Huffman told the Star that Amy "was the fiercest competitor I've ever been around."
Visitation will be from 2-8 p.m. on Thursday, February 7 at Leppert & Hensley Funeral Home, 740 E. 86th Street in Indianapolis (for more information or directions, call (317) 844-3966. The funeral will take place Friday, February 8 at 10 a.m. at St. Luke's Catholic Church, 7575 Holiday Drive East (near 75th & Illinois) in Indianapolis. The church's number is (317) 259-4373.
A message released to the campus community by the women's basketball program Tuesday afternoon reads:
Amy "Hasie" Hasbrook was relentless on the basketball court, and caring off of it. She wore #34, and a smile for all to see. Please take a moment to stop by the women's basketball bulletin board in the Lilly Center, just outside of the gym. We picture her in one of the places she held dearest...the hardcourt of Neal Fieldhouse. There is also a place for those who knew her to state their special memories [This can be done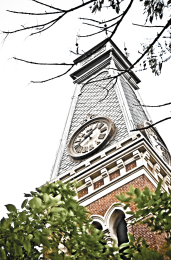 on the DePauw home page, as well. See below.] Please take a moment to remember her, whether you had her in class, watched her play or were touched by her for a moment. The family lost many memories in the fire. Let's make sure they gain some.
The women's basketball program will establish a fund in Amy's honor. We will notify the campus community when our ideas become more concrete.
Sincerely,
Kris Huffman, Staff and Players from Past and Present
If you would like to share your thoughts and memories, please click here to send an e-mail. The messages that are collected will be forwarded to Amy's family.
Back